Sony BDP-S760 Blu-ray disc player
Best in class?
After starting up for the first time, the S760 presents you with its Easy Setup menu. This simply asks for details such as the language you want to use, the type of video cable, and whether or not to allow an Internet connection. Once the initial set-up process is complete the player's Quick Start feature subsequently turns it on and goes straight into the 'XrossMediaBar' graphical interface in just six seconds. Loading up our Close Encounters Of The Third Kind Blu-ray disk packed with extras took another 15 seconds, which is certainly snappier than some other BD players that we've seen in the past.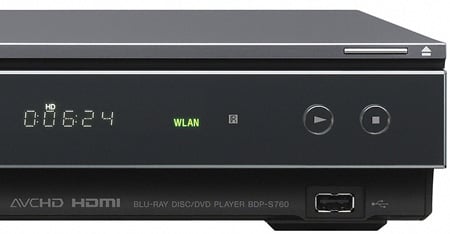 Image playback is possible from USB storage media
Sony does say that the S760 consumes more power when left in standby mode with Quick Start activated, as the fan may continue to run if the room temperature requires the player to be kept cool. You can therefore turn Quick Start off if you want to, which seemed to roughly double the start-up and loading times. Power-consumption with Quick Start activated varies, depending on how much fan cooling is required, but standby mode consumes 0.19W without Quick Start, while power consumption is 32W while playing disks.
We decided to start by checking the upscaling of standard-definition DVDs, and were pleased to see that the S760 did manage to add a noticeable sharpness and clarity to the image on our Spiderman and Brokeback Mountain DVDs – although it's certainly not equivalent to true 1080p, as the spec sheet on Sony's web site seems to imply.
We're not fans of Sony's XrossMediaBar interface but, thankfully, there's a secondary 'options' menu that can be activated from the remote control. This menu is overlaid over the video image and allows you to quickly select important settings such as the various image presets. We also like the backlight option on the remote itself, which will come in handy if you're watching in a darkened room.
Some Blu-ray disks were next – although the spec sheet for the S760 degenerates into a kind of alphabet soup at this point, throwing around terms such as 'Deep Colour' which is supposed to produce "more colour variation" and 'Advanced Super Bit Mapping' which also produces "more colour variation".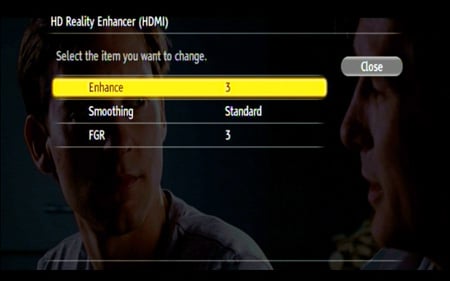 The Reality Enhancer emphasises image details while avoiding colour tweaks
However, the standout feature of the S760 is the 'Reality Enhancer', which leaves the colour alone and just concentrates on fine-tuning the detail within a scene. This works particularly well with films such as Terminator Salvation where there's a lot of gleaming metal to catch the eye, and explosions that allow you to admire the tiny falling fragments of dust and metal.
Sponsored: Minds Mastering Machines - Call for papers now open