Sony BDP-S760 Blu-ray disc player
Best in class?
Mind you, some of the enhanced detail is so fine that you really do need to lean forward and examine the picture quite carefully to appreciate it. Even so, there's no denying that the Reality Enhancer produces the most finely detailed image we've seen from a Blu-ray player in the sub-£500 category.

A few missed tricks, but an impressive viewing experience
And if you're going to get up close to admire all that detail, then you could plug a set of headphones into the socket on the front panel too. That's not too unusual, but we were interested to see that there's a separate volume control for the headphones on the remote control, along with a button that activates a 'headphone surround sound' option.
This certainly doesn't match the output from a true surround sound speaker system – 'virtual' surround sound never does – but it creates a kind of ambient sound that hovers around your head and can be quite effective for explosive sound effects or swirling orchestral soundtracks.
Verdict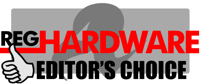 The visual improvements provided by the BDP-S760's 'reality enhancer' and other image processing technologies can sometimes seem rather subtle, and casual viewers who are just looking to upgrade their existing DVD player will probably be happy with prefer to stick with less expensive alternatives such as the S560 model. However, HD aficionados will find that the BDP-S760 allows them to get the very best out of both their DVD and Blu-ray collections without having to take out a second mortgage. ®
More Blu-ray Gear Reviews...

Philips BDP3000
Blu-ray player

Panasonic DMR-BS850
Freesat Blu-ray recorder

Pioneer BDP-51FD
Blu-ray player

Group test:
Blu-ray players
Sponsored: Minds Mastering Machines - Call for papers now open

Sony BDP-S760 Blu-ray disc player
Excellent image quality backed up by comprehensive connectivity, wireless networking and a reasonable price.