LG GM750
Jack of all trades?
The Windows Mobile 6.5 browser is OK, but no world-beater. The GM750's accelerometer works in browser mode – and with the onscreen Qwerty keyboard, but not a lot else – so you can flip the phone on its side to browse in landscape.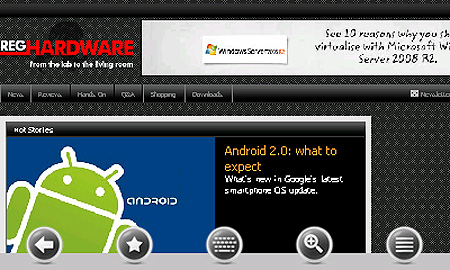 Internet Explorer is on-board for web browsing
You can double tap for a quick zoom, but otherwise the process is a little fiddly, since you'll need to press on the menu button in the corner, then the zoom button, then adjust the slider that appears on screen. You can also use the touchpad to control a cursor, which comes in handy for activating those small point links.
The camera is lacking the Schneider-Kreuznach optics to be found on the likes of the LG Arena, but there is autofocus, and it still manages to produce a reasonable performance. It launches in about three seconds and takes around the same to take a snap – not the slowest we've seen, but certainly not the fastest.
Options include 6 shot continuous capture, a choice of frames and panorama mode that stitches three images together pretty well. The digital zoom won't work at the full 5Mp 2560 x 1920 resolution, and it can only magnify by 1.2 at 3Mp, which begs the question: what's the point?
Video drops the quality to VGA level and tends to blur very quickly with any sort of movement. It'll suffice for emergencies, but don't expect anything approaching respectable video quality.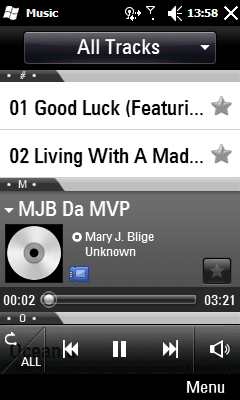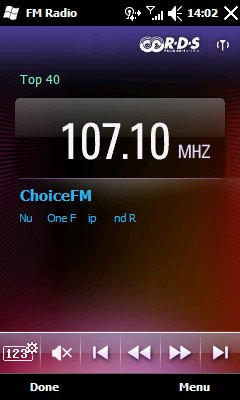 Music and radio playback options
Viewing movies was a little less exciting than we'd hoped. Windows Media Player is the default player and since the accelerometer doesn't work with it, you'll need to go through the menu to switch to landscape mode for viewing. It can display 262,000 colours but even so, pictures weren't particularly sharp and subject to striping and blurring when the picture gets busy.
Sponsored: Minds Mastering Machines - Call for papers now open