Google uncloaks the Nexus One
Googlestore sells Googlephone
Updated Google has surprised no one by unveiling the Google-branded and Google-sold Nexus One phone at a press event in Mountain View.
Manufactured by Taiwanese manufacturer HTC, the phone will be sold through an online store operated by Google at www.google.com/phone. The phone can be purchased unlocked for $529 or in tandem with wireless service from T-Mobile USA at prices beginning at $179.
The device can be used with "nearly all" GSM-based networks, including AT&T's, and it supports 3G bands 1, 4, and 8. This means that it cannot be used with AT&T's 3G network. AT&T users will be limited to the company's 2.5G Edge network. But it works with most major GSM carriers worldwide.
The new online store is open to US customers, and Google says it will also ship to the UK, Singapore, and Hong Kong. It may ship to other countries in the future.
During its press event - broadcast via the web - Google confirmed that it is the seller of record for the Nexus One. Android project lead Andy Rubin said "it would be incorrect" to say Google designed the phone on its own, saying the HTC played an "important" role. Google also said that Verizon and Vodafone will join this new online store in the coming year. Verizon Wireless, the largest wireless operator in the US, is backed in part by Vodafone.
The Nexus One will be modified to run on Verizon's CDMA network, and this CDMA version of the phone will be sold through Google's online story together with Verizon service. The GSM Nexus One will be sold in tandem with Vodafone service.
The company says the Nexus One was designed in close partnership with HTC. The Google brand is prominently displayed on the back of the phone, and the HTC is in small letters below it.
According to Rubin, Google will make money from the sale of the phone, but he said the company's main aim is to promote web use and feed its online advertising business.
"To help Android adapt to the needs of consumers, we apply our engineer resources with select projects with partners. In this way, we have accelerated the progress of innovation," Google's Mario Queiroz said. "A long time ago, we asked ourselves the questions: What if we worked even more closely with partners?"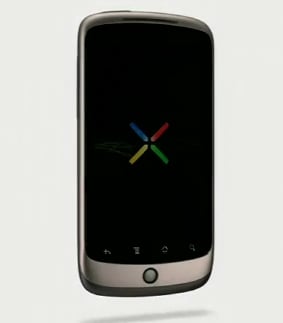 Google Nexus One
As countless press reports indicated, Google's new phone is indeed named with a nod to Philip K. Dick's Do Androids Dream of Electric Sheep? Queiroz referred to the device as a "superphone."
"It belongs to an emerging category of phones we call the superphone," he said.
Measuring 11.5mm thick and weighing 130 grams, the new phone includes a 3.7-inch AMOLED display, a 1GHz Qualcomm Snapdragon processor, a 5 megapixel camera that takes video, and a trackball that lights up when you receive an email or phone call. It is the first Android phone to include noise cancellation, and it includes a voice-enabled keyboard.
The phone is based on Android version 2.1. Google says it will open source this new version of its mobile stack soon. ®
Updated: This story has been updated with ongoing information from Google's press conference, and it was later updated to clarify the version of Android that runs on the Nexus One and clarify the device's wireless support.
COMMENTS
le sigh
Why is everyone acting so indignant just because it's Google branded? It's a hell of a nice phone, and even nicer for the price point (which is admittedly high, but not nearly as high as anything that can reasonably compete with it).
Marketing bluster is what it is, but this phone is pretty much exactly what it claims to be. Powerful, easy to use and fully featured. Nice camera, nice processor, ability to do whatever you need. Looks to be well on top of the pile.
Two points for the "innovation" crowd:
1) Why all the complaints just because it doesn't do something stupid like double as an XBox 360 and 47" plasma TV, or maybe it should be a Cisco router too? :/ It already does more than a rational person wants from a phone, all that's left is to polish it right, which Google/HTC seem to have done.
2) Most of you seem to be comparing it negatively to the iPhone on this innovation point. Maybe if you had been aware of the smartphone market before Steve Jobs beamed the orders to buy an iPhone into your brain, you'd realize that the iPhone is nothing more than a derivative product itself. HTC has been making things just like the iPhone since 2003, Nokia made the 7710 around that same time, Samsung made the i700, Motorola A1000 and so on. Heck, right as the iPhone was released LG was releasing the Prada and Viewty, which were essentially the iPhone but one far more stylish and the other with far superior hardware.
The irony of hating on anyone who likes this phone as a mindless Google fanboy while touting your iPhone as some sort of revolutionary (you know, like the guy on your t-shirt) is hopefully not lost.
Google's mystery cloak
> This post will be continuous updated as Google veils new information.
So the article will be getting shorter?
@Spyware
When they release the source code you can have a look can't you.
One way it could kill the iPhone
Most comments seem to be focussing on the hardware. Loads of predictable "so what, it's just an iPhone copy" stuff.
The crucial point here will be the software. If Google allow 3rd party apps to be loaded, then Apple are in serious trouble. Apple's increasingly unpopular draconian closed shop business model is their weakness (and don't give me all the "it ensures QA" bollocks arguments either - it's all about total control with Apple and it will only get worse with their upcoming silly money tablet).
Google will know..
...where I go and when;
Who I call and when;
What I search for and when;
What I book/buy on the mobile and when;
Potentially who I associate with and when (assuming they also have a Borg-phone);
Pretty much everything about me.
And they expect me to want their phone?
Feck that. Feck that very much.
"Do no evil"? Too late Mr. Schmidt, way too late.