To make good use of the screen, the VX5 has a Blu-ray drive as standard, so can play BD movies without problem. Even in fast-action sequences of the movies we tried, it showed no signs of jitter, though some of the PC Mark Vantage video-over-video sequences caused breaks in the audio. You wouldn't hit this in normal playback, though.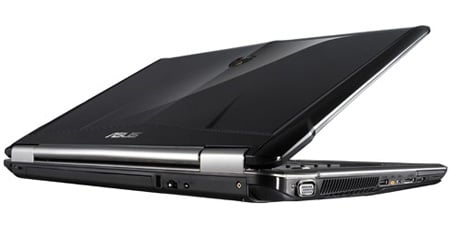 The bonnet/lid louvres break up more conventional lines
Audio isn't bad, as mobile sound goes. The two speakers positioned behind the keyboard give a reasonably clear treble and mid-range but, as usual, bass is well under-emphasised. The suspicious-looking circular grille on the underside of the machine is supposed to be a bass speaker, but makes little difference that we could detect.
The machine includes a Realtek sound chip and, as always, much better sound is available through headphones or a decent set of external speakers. Standard headphone, mic and line out jacks are fitted in front of the Blu-ray drive.
The keyboard – looking vaguely like a set of Travel Scrabble tiles, but without the scores – is backlit with white LEDs. The keys have a reasonably positive feel and are better supported in the body of the VX5 than in some other Asus machines that share the same keyboard but with limited travel. The lighting of both screen and keyboard is controlled automatically, so it dims as the ambient light drops. The ultra-smooth touchpad is sensitive and has the usual scroll bar down the right-hand side, but no gesture support.
Moving round the edges of the VX5 shows a good range of connections. As well as four USB 2 sockets, distributed on three sides, there's a single Firewire, an eSATA, external VGA and HDMI. At the back is a Gigabit Ethernet socket and on the left is an antenna socket, which doesn't do anything unless you fit the optional TV and radio tuner card.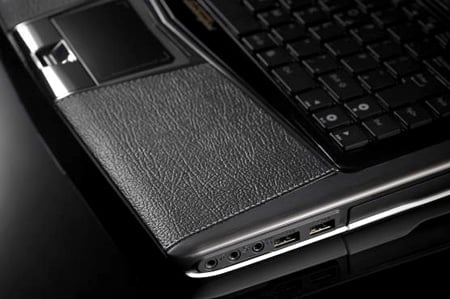 Well you wouldn't want to rest your wrists on cheap plastic, would you?
The machine has both 802.11n wireless and Bluetooth and each can be switched on and off independently, to conserve power using a slide switch under the front lip. Both PC Express and twin-card slots are provided, with the twin-card slot supporting SD and Memory Stick in several varieties.
COMMENTS
'notebook' ??
I would not call a 16 inch screen machine a notebook, at that size it's a fricken laptop!
Why do these netbook/notebook creators keep increasing the screensize of their products? 8.9" is perfectly fine for me and a lot of others, yet they all want to sell me 10" or bigger screens now. Don't cite the old "oh but the keyboard is too small" bollocks, the keyboard on this Eee is perfectly good enough for me to be able to touchtype on - it's 'fullsize' keyboards I have trouble with now because you have to move your fingers so far in all 3 axis to touchtype.
So what are you getting for your money here?
Just picked up a "clearance stock" Advent 7555GX (yes I know, Advent are awful but this was cheap) quad core from the hell-on-earth that is PC World for less than half the cost of the Lambo. True, it has a rather awful 1440x900 screen, but being based on the MS-1722 I'm guessing I can upgrade the screen and the dog-poo 5400rpm diesel powered SATA2 hard-disk. Graphics are from an ATI4850 which is fine for what I will be using the machine for (portable DAW).
The main selling point for me was quad-core for £730 and as this was ex-demo I got it for £500. Preposterously cheap. Just waiting for my Windows 7 disks.
The point being - why are ASUS selling a quad-core that costs this much when it ought to be possible to build and sell it for much less. It's all very well having a Lamborghini sticker on it, but is it worth the extra grand?
Call me when....
...someone releases the "Ultima GTR" Laptop.
Faster, better looking and a 10th the price.
http://www.ultimasports.co.uk/Content.aspx?f=gtrintro