Dubai cuts ribbon on world's tallest building
$1.5 billion, 800m+ tower opens
Dubai is trumpeting the completion of the Burj Dubai - the world's tallest building, whose 800-plus metres took five years, 12,000 labourers and an estimated $1.5bn to construct.
The exact height of the structure will not be revealed until an official ceremony, when the emirate's ruler Mohammed Bin Rashid Al Maktoum will formally cut the ribbon on the "Dubai Tower", as it prosaically translates into English.
The chairman of developer Emaar Properties, Mohamed Alabbar, was moved to say on the tower's website: "Burj Dubai goes beyond its imposing physical specifications. In Burj Dubai, we see the triumph of Dubai's vision of attaining the seemingly impossible and setting new benchmarks.
"It is a source of inspiration for every one of us in Emaar. The project is a declaration of the emirate's capabilities and of the resolve of its leaders and people to work hand in hand on truly awe-inspiring projects."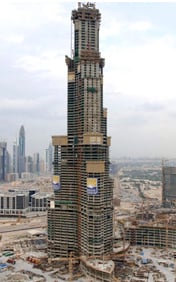 The Burj Dubai had already stripped Taiwan's Taipei 101 (508 metres) of its tallest building crown back in 2007, when it hit 141 of its final 168 stories (see pic*). Emaar Properties remained tight-lipped on the final height since rival constructor Nakheel was threatening to put up Al-Burj (The Tower), another megastructure whose projected elevation was a "closely guarded secret".
Whether the Al-Burj ever gets off the ground remains to be seen, following the crash of Dubai's property market and a grim 2009, which saw thousands of workers laid off and building developments cancelled or delayed.
This apparently hasn't affected the Burj Dubai, however, with experts saying the owners have sold nearly all of the tower's 1,100 residential units. In case you're wondering how much it costs to live at altitude, one Palestinian businessman told AFP he'd bought "a small apartment on the 80th floor for $3m". ®
Bootnote
* We'd offer you a nice snap of the finished product, but at time of writing the Burj Dubai website had fallen over. We hope the building's more robust than the developer's servers, and in the meantime, Reuters has some images here.
Sponsored: Minds Mastering Machines - Call for papers now open