They said what? Quotes of the Year
The urbane, the insane...
---
"Look on the bright side. We have the potential to become micro-celebrities in our very own day time infomercial"
One-man strategy boutique Jan Chipchase in a blog post called "You Are a Walking Advertorial". Mr Chipchase works for Nokia.
---
"These are published images: delivered to the public - public domain - public property..."
Tireless copyright campaigner Crosbie Fitch explains what's his is his, and what's yours is his, too. He was describing the National Portrait Gallery's decision to protect its digital rights, against a landgrab by Wikipedia. See that Porsche over there? It's on a public road. It must be public property...
---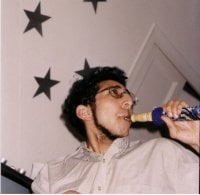 "The trade off is that we got a huge (and 95 per cent positive) press hit - and that's all part of the game too."
The 'new economics foundation' (which hates capital letters) admitted that it had to make up numbers for its Happy Planet survey, which rated poor countries with high infant mortality rates (such as Costa Rica) as the happiest in the world. Lucky bunnies! To be honest, this quote gets in because we wanted to print that picture of the report's author, Citizen Saamah Abadallah, again. Thank you, thank you, Facebook.
---
"Swans

Champagne flutes

Christmas parties

Organic food

Anyone Scottish

Non-Russians with Russian girlfriends

Film stars

Complaining about the smoking ban

Celebrity chefs

Pronouncing the last 'e' in furore

Coloured bathtowels

Cappuchinos after 11am

The Caribbean

Art Deco

Suicide

Scented candles

Garlic on your breath

Saying 'My garden has its own microclimate'

Framed photographs of anyone non-Royal

Morocco

Bottled water

Not knowing the words of hymns

St. Tropez

David Walliams"
Nicky Haslam's list of "things he hates". Where's the IT angle? There isn't one.
Sponsored: Minds Mastering Machines - Call for papers now open