LG GD510 Pop
Missed opportunity
Indeed, the Pop is a bit Spartan when it comes to physical controls: just a volume rocker, camera key, and power button on the sides, and a context-sensitive call start/end key on the front.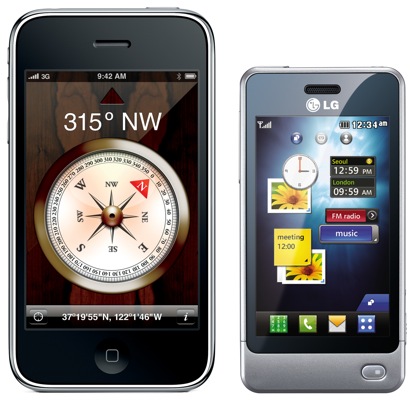 Rather more pocketable than a certain other touchphone
The camera's three million pixels and optics take a reasonably bright, colourful picture out of doors, though it unsurprisingly struggles indoors and in darker conditions. Video comes in at 320 x 240 and approximately 15p/s, so passable for YouTube but not much else.
What the Pop does do well is make and take phone calls, and we found conversations came through loud and clear. We didn't experience and drop-outs and the signal strength seemed decent throughout.
Likewise, battery life was reasonable too. With no 3G and Wi-Fi, you'd expect as much, but a 3in LCD can drain a battery too, and we kept the Pop's screen on 100 per cent brightness. That said, LG has notched it back so full brightness here isn't necessarily as glaring as it might be on other handsets. But we went a good three days before we had to recharge the battery.
Verdict
The Pop is another of LG's attempts to bring touchscreen technology to a more youthful, more cost-conscious audience. And it may well appeal to anyone fed up with the size of smartphones: it's about three-quarters the size of an iPhone, so much more pocket and palm friendly. But by focusing everyone's attention on the touchscreen and then using old, inferior technology to drive it, LG has missed a trick. So the Pop, in all other respects a capable 2.5G phone, ultimately disappoints. ®
More Budget Touchscreen Phone Reviews...

Samsung H1

T-Mobile
Pulse

Samsung
Tocco
Lite

Nokia
5530
XpressMusic

LG GD510 Pop
Not actually a bad phone, just one let down by the choice of touchscreen tech.
Price:
£250 (Sim-free) £100 (PAYG) Free (Contract) RRP