LG GD510 Pop
Missed opportunity
S Class' three screens are the widget panel; a cutesy display with little people on it who represent you and your chums; and a screen on which you place specific contacts for fast-access to their details. Four icons at the base of the UI provide single-tap access to the phone dial pad, the full contacts list, the messaging app and the full list of apps installed on the Pop.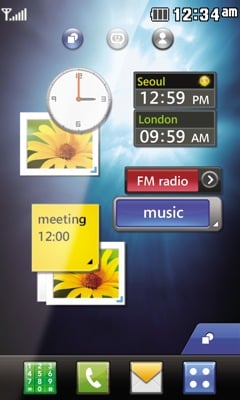 LG's S-Class UI needs a more responsive touchscreen than the Pop has
To go back to the widget screen, for a moment, at the bottom of the screen there's a side-scrolling line of widget icons you can tap and drag up to the main area to use. Scrolling involves swiping, and we've said how that's not as smooth as it could be, and the same is true of dragging the icons. It's easy to drop them by mistake and picking them up again doesn't always trigger. That said, there's a nice shake-to-align feature that makes use of the Pop's accelerometer.
Visually, the screen's not actually bad. It's a 3in, 240 x 400 job capable of displaying 262,000 colours. Even though the Pop is a lot smaller than the iPhone, it's screen is only slightler smaller than the one on the Apple product.
The display takes up a greater portion of the Pop's face than the screen in most touchphones do, showing that these kind of handsets don't need to be bulky. The Pop's diminutive 97.8 x 49.5 x 11.2mm frame holds a removable 900mAh battery, 3Mp camera, the screen and the phone's other gubbins. On board storage is limited to 42MB, so the Micro SDHC card slot under the back panel is essential if you want to use the Pop for multimedia.
Of course, a small phone means a lack of space for extras, and the Pop duly lacks Wi-Fi and GPS. It doesn't even have 3G connectivity, making do with quad-band GSM/GPRS/Edge for connectivity. Bluetooth is present for syncing and wireless audio.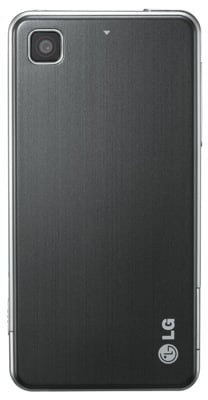 The 3Mp camera is flash-less and basic, but the snaps aren't bad for a phone
The 2.5G cellular capacity makes surfing a drag, but it's less of an issue for small bursts of data, which means users will probably want to make more use of the phone's widgets than its web browser. But even grabbing the local weather info can be slow, especially when the phone asks PAYG customers if they don't mind paying for the data first. It does this every time you tap on a widget to open it up.