Original URL: http://www.theregister.co.uk/2009/12/19/review_e_book_reader_amazon_kindle_2/
Amazon Kindle International Edition
Lost in translation?
Posted in Tablets, 19th December 2009 09:02 GMT
Watch Now : Virtual Machine Movement with Hyper-V
Review It was Amazon's Kindle that really turned the idea of an e-book reader into a true mass-market proposition. Well, in the States, at least, because the first Kindle was only ever available to US-based buyers. Now, however, you can get an "international version" of the Kindle 2 in Blighty. More accurately, you can buy it from Amazon in the US and have it shipped to you in the UK.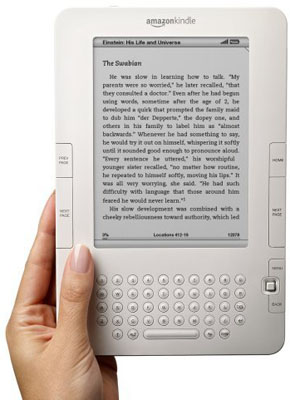 Amazon's Kindle: now over here
Look up the Kindle 2 on Amazon.com and you'll find a headline price of $259 and since that's about £155 in real money, you're probably thinking it's a bargain compared to the iRiver Story [1] and Sony Reader Touch Edition [2], both priced on the wrong side of £200. But by the time you add shipping and import duty, the price of the Kindle is actually £207. Still cheaper than the competition, but not by as much.
Something else worth keeping in mind is that the International Kindle is not the latest version. In the US you can order the Kindle DX, which boasts a 9.7in screen in place of the standard edition's 6in panel.
Before we dive in to the hardware, let's deal with Amazon's Big Idea: buying and downloading content over the air. Buy a Kindle and you get 3G or GPRS access to Amazon's e-book store. There's no up-front charge - the cost is built into the price of the book - and it means you no longer need to download books to computer then copy them over to the reader.
In the US, Amazon's Whispernet network piggybacks on AT&T, but both the carrier and Amazon are keeping mum about who exactly is hauling the data in the UK. To avoid hitting Amazon with serious data roaming costs, the International Kindle lacks the web browser that US users get, nor do you get images in your newspapers, just plain text.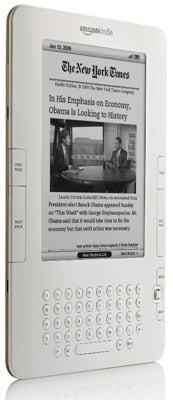 UK-based users can get newspapers on their Kindle too - but minus the pictures
Newspapers? Yes, with the Kindle you can subscribe to a selection of daily papers. Only four UK titles are available at the moment - The Independent, The Times, the Telegraph and the Daily Mail - each of which will set you back $23 (£14) per month. You can also subscribe to a selection of magazines, and though the list is heavily US-oriented it does include both The Spectator and The New Statesman.
---
To help us test the Kindle, Amazon kindly bunged Register Hardware $30 of credit which we promptly spent on the e-book of the complete Lord of the Rings, the download taking only a matter of moments over a 3G connection before magically appearing in our library.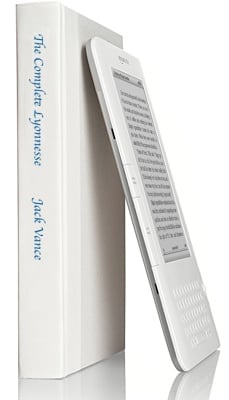 Better value than paper books?
The purchase set us back $20.29 (£12.50) which is exactly the same amount Waterstones wants for the paperback, though the RRP in £19.99. Waterstones is selling the ePub e-book for £14.71 in the UK. Anthony Beevor's Stalingrad can be picked up for $9.37 (£5.80) on the Kindle which is a bargain, while Robert Fisk's Age of the Warrior will set you back $13.79 (£8.50) - otherwise a £9.99 physical purchase in your local WH Smiths.
Since Amazon expects most Kindle users to buy content from, well, Amazon, the Kindle's primary e-book format is Amazon's own AZW, though it can also handle DRM-free Mobipocket files. If you ask us, an e-book reader that doesn't support ePub is a bit of a three-legged nag. Despite what Amazon may think, ePub is now the e-book standard with even Sony - never a company to relish the adoption of technologies it didn't invent - recently converting its entire DRM e-book library to the format.
The real advantage of any e-book reader is that you can head over the likes of Feedbooks and grab the entire output of Jane Austen, HG Wells, Dickens and Tolstoy, and not pay a penny. Thankfully, Feedbooks offers its content in Mobipocket format as well as ePub and PDF.
Speaking of PDF, after having run an over-the-air firmware update, our sample Kindle acquired the ability to show PDF files. However, the PDF update was only partially worthwhile. Yes, PDF files now show up in the device's library, but there's no zoom function so we're stuck with the basic full-page view. You can increase the text size by swapping the view from portrait to landscape but that really is no substitute for the ability to zoom and reflow.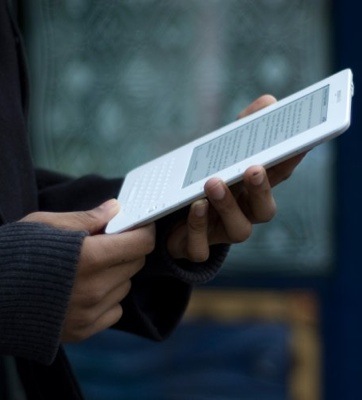 Not the best e-book reader for viewing PDF documents
Incidentally, when browsing Tolkien's epic we came across another problem: the maps could only be magnified to full page size which left them largely illegible.
---
The only other file type the Kindle supports is plain text, but if you want to load Word or image files you can send them to a dedicated Kindle e-mail address that comes attached to your device and a few minutes later they appear on your Kindle's home page. It's all a bit of a palaver compared to just dragging and dropping content and, more to the point, will cost you $0.99 per megabyte, rounded up. If you want to dodge the cost, Amazon will send the converted files to your PC e-mail account for free.

Skinny size but with a near-infinite storage capacity thanks to Amazon's cloud
Like the Story, the Kindle comes with 2GB of storage, but unlike the iRiver device you don't get any way to increase this. That failing is ameliorated a little because your e-book purchases can be archived on Amazon's servers so you can delete content from your Kindle without losing it permanently. It's a nice idea, so long as Amazon's cloud never fades - and it doesn't unilaterally swipe content away at a later date as per the 1984 controversy [3].
Once loaded with content, the Kindle does the whole e-book reader thing rather well. The 600 x 800, 167 dpi, 16-shades-of-grey screen is commendably clear and crisp, and refreshes no more slowly or annoyingly than any other E Ink-based e-book reader does. The menu layout is largely straightforward, though labelling the section that holds bookmarks and notes as My Clippings is annoying for a reason we can't quite put our finger on.
The Kindle also has a text-to-speech function that works on both purchased and non-DRM content, but unless you fancy all your books read out in a dreadful American monotone – you can chose male or female - you are best advised to steer well clear of this facility. The mispronunciations on a single page of Lord of the Rings were hilarious, and the dark art of punctuation is also unknown to the system. So don't expect the Kindle to replace the audio book.
Physically, the only-in-white Kindle looks and feels much like the Story and, at 203 x 134.5 x 9mm and weighing 289g, it's near enough identical to the iRiver in size and weight too. That's no bad thing, because we rather like the Story. External ports are limited to a Micro USB port at the bottom, and a 3.5mm audio jack and power switch at the top. A couple of small speakers are tucked away around the back while a volume rocker is housed on the upper right hand side.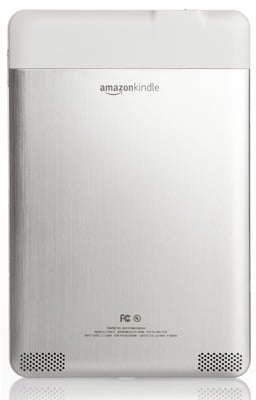 There are two speakers, but the Kindle's music and text-to-speech features are weak
The Kindle's physical controls have been generally well thought out. Next-page buttons are located on both sides of the device, though only the left-hand side has a previous-page button. The page-turn keys do feel slightly loose and cheap. The Story has the better keyboard, the keys on the Kindle being just a bit too pimply and small. The joystick on the lower right side is an e-reader navigation tool unique to the Kindle and, though it takes a little getting used to, it's a reasonable alternative to a touchscreen interface when it comes to highlighting or selecting text.
---
In day-to-day use, the Kindle has most of the bases covered, so you can add multiple bookmarks to multiple books; view text in six sizes; look up words in the built-in American dictionary; and add notes to particular pages, passages or words where they are then indicated by superscript marks. Open a previously read book and the Kindle takes you directly to the last page you viewed. What you can't do though is create free-standing memos or notes for later viewing or export as you can with the Story.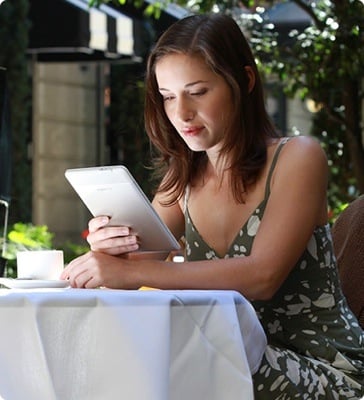 Download and read while you wait for your lunch
Audio file support is limited to MP3 and Audible, and the music player, such as it is, does nothing more than play MP3 files in the order they happen to be in the Kindle's music folder. There is no UI of any sort to manage music content but you can sync content via an MTP media player. Both the music player and text-to-voice feature are currently housed in the "Experimental" menu, which suggests they may be improved by future firmware updates.
Amazon reckon a fully charged Kindle can last a week with the wireless left on, or two weeks with it off. That's a change in reference from the usual 'number of page turns' most e-reader makers quote but in our experience the Kindle won't need to be charged any more frequently than the likes of the Sony Touch or iRiver Story since the wireless radio idles after a few minutes without use.
Being essentially a US product, the Kindle arrived up with a two-prong USB mains charger and no adaptor. Since none of the other e-book readers we have tested come with a power brick of any sort we can't really knock Amazon for not supplying a third prong.
Before we wrap up its worth mentioning that various bigwigs at Amazon have made mutterings about developing a more UK-centric Kindle offering, and maybe even launching the DX in the Sceptred Isle. And don't forget that at some point next year Sony may decide to launch its Reader Daily Edition in the UK. That has a 7in touch screen, a 3G wireless module and the ability to download ePub books over the the air.
Verdict
Assuming you plan on buying all your books from Amazon, won't miss a decent music player and don't have any ePub files you want to read, the Kindle should satisfy. The screen is good, it's easy to use and, file support aside, the features list is up with the best of the competition. The problem is that if you live outside the US, Amazon will happily take your money but treat you like a second-class citizen. And if you do buy your books from Amazon, you're stuck with its e-readers no matter what else comes along from the likes of Sony, iRiver or Samsung. ®
More E-book Reader Reviews...
 [4]
iRiver
Story
 [5]
Sony
PRS-600
Touch
 [6]
Bookeen
Cybook
Opus
 [7]
Sony
PRS-300
Pocket