Japan falls for the iPhone
Far east fanbois
The iPhone continues to gain market share worldwide. No news there. What's interesting is the country where it achieved its highest rate of growth during 2009: Japan.
This news comes from the latest smartphone ad-tracking report from AdMob, the mobile ad-delivery service that recently walked down the aisle with Google after a brief flirtation with Apple.
Although AdMob's figures indicate general trends in the mobile marketplace, it's important to note that they are derived from data the company leaches from its ad-serving network and, in the company's own words, "does not represent the traditional view of market share based on the number of handsets sold."
That said, AdMob's monthly reports do give a general sense of what's what in the mobile world - especially in terms of smartphones.
And what the most recent report reveals is that the iPhone's greatest growth is coming in markets other than the United States, which is already highly iPhonified. The iPhone's market share in Japan, for example, has grown nearly 350 per cent during 2009.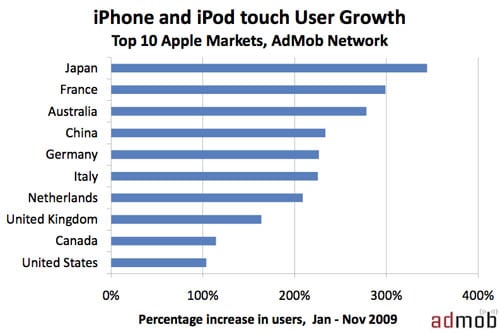 The iPhone is turning Japanese, we really think so, think so, think so, think so
When the iPhone was first introduced in Japan, the punditocracy predicted it would have a rough go of it, seeing as how the Japanese market was already flooded with highly capable smartphones. However, the iPhone passed all mobile-phone competition in July - although at that time we wondered whether the iPhone 3GS's introductory sales bump would be sustainable.
The recent figures from AdMob seem to indicate that it is - despite the fact that an August survey revealed that 49 per cent of potential Japanese smartphone customers said that "mobile phones are enough" when asked what kind of mobile device they preferred. Only 22 per cent of those polled wanted a smartphone, with the remainder prefering netbooks, notebooks, MIDs, or nothing at all.
Still and all, Japan currently represents only about 3 per cent of total iPhone and iPod touch users, according to AdMob. That's far behind the US, which 50 per cent of those users call home.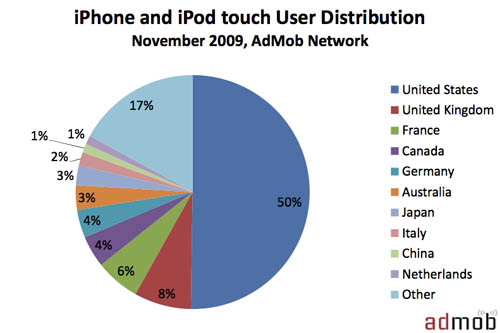 Today the US, tomorrow the world
The UK may house only 8 per cent of all iPhone and iPod touch users, but its percentage of smartphone users who have chosen the iPhone is higher than any other country that AdMob cites: a rousing 76 per cent, which dwarfs even the iPhone-crazy US, which lags behind at 55 per cent.
Nokia is still the smartphone manufacturer of choice by a wide margin in India, Indonesia, the Phillipines, and other countries that have not yet been seduced by the iPhone's siren song, but the Finnish phonemakers market share is sinking sharply worldwide.
As The Reg reported last month, Apple passed Nokia in March of this year - and it's not looking back. As of November, Nokia's smartphone market share as determined by AdMob's metrics had shrunk from a high of 62 per cent in September 2008 to a mere 18 per cent. Apple's worldwide share is now 54 per cent, crossing the 50 per cent threshold for the first time.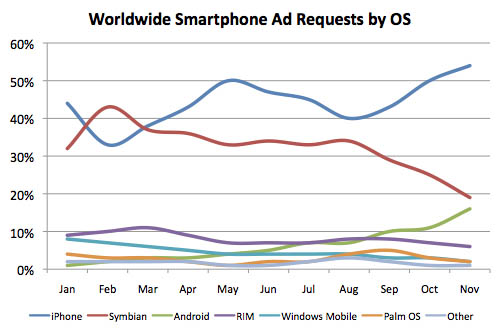 Tied to the Symbian OS, Nokia's share is slipping sharply
Android is making its move as well, closing in on Symbian's share of the smartphone OS market, 16 to 19 per cent. We're willing to bet an aging fruitcake that Android passes Symbian by the end of the holiday season.
Palm's Prē and Pixi are not fairing well at all, according to AdMob - their share sank by half from October to November, and now accounts for a mere 2 per cent of AdMob's ad requests.
You can download the full 20-page AdMob report here (PDF). ®
COMMENTS
Semi-useless info
Without a direct split between iphone and ipod, there is no way of telling which device the Japanese are using. Are they sticking with their advanced mobiles and using the ipod touch, or are they switching to the iphone?
Apple have (worldwide) sold 34m iphones, 17m of them to the US and 17m to the rest of the world, Japan has 120 million people, 3% of 17m is 510,000, doesn't really seem so impressive like that does it, Apple selling 510,000 phones in Japan. But again, without knowing the exact figures of the split between iphone/ipod then it's just a rough percentage guess.
However if you look at:
http://www.engadget.com/2009/12/18/iphone-nabs-46-pecent-of-japanese-smartphone-market-the-tiny-ja/
It gets broken down pretty well, Apple may hold 46% market share for smartphones, but in Japan smartphones are a tiny market, Apple doesn't even break out of the "other" category which have a total market share of 22.6% (others that is, not Apple on its own).
So in summary, the iphone market in Japan is tiny, lumping it in with the ipod to seem like it has higher growth than it has is pretty terrible.
Funny you should mention disingenuous
I wonder if you might want to rewrite your post to avoid the title yourself. 40 million iPhones is still 40 million iPhones. Your attempt to carve it into separate models in order to lessen the iPhone's impact is the very definition of disingenuous.
As usual with Apple haters, you continue to focus on old school metrics and fail to see the big picture. Deny it as much as you want, but even the other manufacturers know they must find a way to match the iPhone or die. They are all busting their hump to turn out copycat models and all failing miserably. Nokia is starting to feel the pain, Palm has a few nails in the coffin, and we'll probably see in retrospect that Blackberry has peaked. The iPhone isn't perfect, but manipulating statistics to to try and deny the iPhone's global impact is pathetic. If you don't like them then don't buy them, but face reality and realize that iPhone is here to stay and is going to continue to turn the mobile market upside down.
Riiigggt. . . .
It's a shame you are too myopic to see a great meld of hardware and software. It's a shame your idea of "open" trumps the common sense goal of "useful".
You think so?
You're living under a Rock of Denial.
When Apple said they were after 10% of the smartphone market, they were met with derision. They'll never appeal to everyone, and sure, the reality is that iPhone is surrounded by a reality distortion haze, but dismissing it is naive. It is what it is, and it's kicking the arse of every other mobile phone manufacturer in the world, because for once someone is making something and sticking to their guns over it.
I don't much like the Apple company line, but their placement and approach is gutsy and undeniable.
These stats are soooo sampling-biased it's a joke!
Of course the jesus Phone has a huge number of mobile web ad requests - it is far and above the most-promoted platform for mobile browsing!
It doesn't directly relate - hell, it doesn't even correlate - to the number of devices existing and/or in use.