Space 2010 - the future is fantastic!
Solar sailing, Venus weather, dark matter, and more
Endeavour mission STS-130
Scheduled launch date: February 7, 2010
Mission duration: 13 days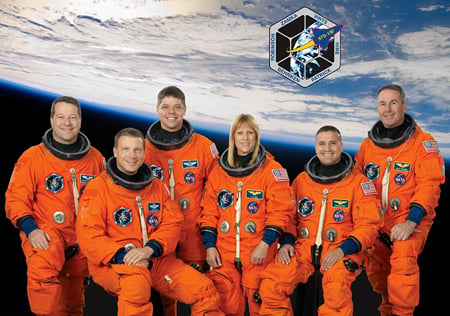 The STS-130 crew, image courtesy NASA
Six astronauts aboard space shuttle Endeavour will blast off from NASA's Kennedy Space Center in early February to deliver the International Space Station's third connecting module, Tranquility.
The new section provides extra room for cramped ISS crew members and for some of the station's squeezed-in life support and environmental control systems already on board. Because if the life support systems ain't happy, ain't nobody happy. Tranquility was built for NASA by Thales Alenia Space in Turin, Italy, under contract to the European Space Agency. It will be owned and operated by NASA.
Tranquility also provides several docking points for the ISS, one of which will be occupied by Cupala, which features a robo-work station inside for aiding ISS assembly and maintenance and includes seven windows (six on the sides and one on top) for earth observations.
STS-130 is the 32nd shuttle mission to the station.

Discovery mission STS-131
Scheduled launch date: March 18, 2010
Mission duration: 13 days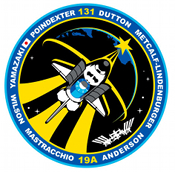 STS-131 will ferry to the ISS a Multi-Purpose Logistics Module (MPLM) — which is NASA-speak for a big, pressurized cargo container for bringing up supplies and sending back waste and finished experiments. The MPLM for STS-131 will be filled with science racks to be transferred to the ISS laboratories upon arrival.
Three spacewalks planned for the mission will include replacing an ammonia tank assembly and retrieving a Japanese experiment from the station's exterior.

Atlantis mission STS-132
Scheduled launch date: May 14, 2010
Mission duration: 11 days


Shuttle Atlantis and its crew of six will visit the ISS in May to deliver the Russian Rassvet mini-Research Module, US pressurized cargo, and a spare elbow for the orbiting outpost's European Robotic Arm.
Three spacewalks are planned to place spare components outside the station, including extra batteries and spares for the Canadian Dextre robotic arm.
Only two more shuttle missions remaining...