Sony Vaio X
Spectacularly slim – fat wallets only
In fairness, the tests – a constant running of PCMark until the battery dies – are strict. With the system simply set to sit idle with the screen on it ran for seven hours 56 minutes - impressively close to Sony's claim of eight hours.

Two USB ports and headphone output, but no mic input
There are a few concessions to portability. You'll find just a pair of USB ports, for instance, and - unusually - there's no microphone-in port, which could prove annoying for those who use VoIP services such as Skype, unless you've a USB audio option handy.
You still get video out, courtesy of a curiously oversized-looking VGA port, and there's even wired Gigabit Ethernet, although the port is too big for the X series' slim dimensions and needs to be folded out before use. The front of the system is host to a useful pair of memory card slots. Inevitably, one is a slot for Sony's Memory Stick format, the other for more popular SD cards.
Inside, there's some useful hardware. Complementing the 802.11n wireless is a 3G radio - the X comes with an Orange Sim card as part of Sony's Everywair package. Priding itself on looks and slimness, leaves little room for much else in the way of luxury.
A reasonable 0.3Mp webcam is built into the bezel of the monitor, but other niceties – a TPM chip or a fingerprint reader for security, or a row of media playback keys above the keyboard – are absent.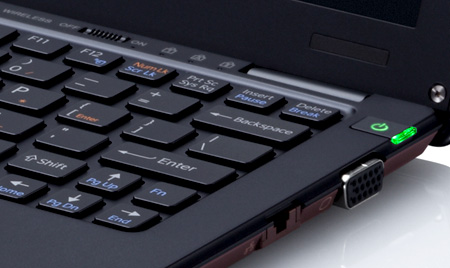 The seemingly huge VGA port gives an idea of the size of the unit
The X puts us in mind of an old adage. You can have your laptop fast, thin or cheap - pick any two. On this evidence the X might be an expensive - but gorgeous - misstep. It's the thinnest laptop we've ever seen, but it's not, say, twice as portable as netbooks such as the Dell Mini 10, despite costing well over twice as much.