Mobile internet to eat world, apparently
Attack of the 50-foot MID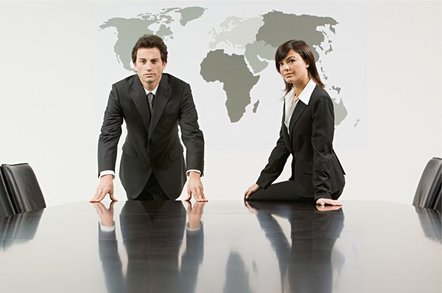 Morgan Stanley has issued a set of reports asserting that the mobile internet will be much bigger than the desktop internet: "Regarding pace of change, we believe more users will likely connect to the Internet via mobile devices than desktop PCs within 5 years."
There are five converging trends: 3G, social networking, video, voice-over-IP (VoIP) and improving mobile internet devices (MIDs). The report claims that Apple's iPhone and iTouch ecosystem are exhibiting the fastest user growth in consumer technology history. It says that the number of MIDs, from smartphones to games consoles, rumoured tablets and netbooks, will vastly outgrow the number of desktop PCs and talks of more than ten billion units. What does this imply for storage?
Morgan Stanley asks: "The high-level riddle is - will the next stage of mobile Internet develop in a fragmented/open way (a la desktop Internet) or will it develop with leading/closed platforms as the mainframe, minicomputer and PC era did?" A closed MID device market will restrict selling opportunities for MID storage component suppliers.
It should mean that MID form factor storage shipments will be on a huge growth curve, suggesting good news is coming for MID NAND flash shippers. That should certainly benefit Samsung but other NAND foundry owners, such as Toshiba/SanDisk, could also benefit as billions of megabytes of the stuff will be needed for the billions of MID devices coming.
On the hard drive front Seagate's single platter Momentus Thin looks well-placed with its thinness combined with 2-5-inch capacity. Toshiba also looks well-positioned with its dogged perseverance in producing 1.8-inch format drives.
Consumers may also need local backup of their devices with support for cable-free connections. "PCs (along with the cloud) are becoming home media servers, storing/backing up and providing content to / from smartphones," says Morgan Stanley. Maybe a combined backup-battery recharge facility will be developed. A big driver for MID proliferation is video and local storage and the ability to replay on connected video devices like TVs and PCs will surely become useful.
The MID network pipes will need storage caches to keep their pipes full and their customers happy. The other big market for storage in a MID-mad world will be petabyte-class storage farms for the cloud service providers used by the MID owners, things such as Facebook, YouTube, Google, Microsoft Azure (possibly), Twitter and other social networking and consumer cloud software-as-a-service (SaaS) companies that have sprung up.
Morgan Stanley mentions three very well-positioned service suppliers: "We believe Facebook has the potential to serve as a communications platform/engine of one-to-one, one-to-some and one-to-many (and visa versa) [sic] for the mobileInternet… Additional platform companies that appear to be well positioned for the rapid changes related to the evolution of the mobile Internet include Tencent and Skype."
Growth rates and user numbers can be astounding, with the reports saying Facebook has 430 million users and more than 137 per cent year-on-year user count growth. YouTube is identified as having 466 million users with 35 per cent year-on-year growth. Skype has 521 million registered users, a number which is growing by more than 40 per cent year on year.
The reports assert that mobile data traffic will rise 66-fold by 2013, a 131 per cent compound annual growth rate (CAGR). How long will it be before the biggest MID service suppliers find themselves needing exabyte-capacity storage facilities?
Not every large cloud supplier will go the Google DIY route. They won't be buying FAS 6000, EVA 6000, DS 6000, CLARiiON-type arrays. Such facilities have needs that will dwarf the high-performance computing (HPC), video rendering media environments. The Isilons, BlueArcs and DataDirects will have to change their game if they want to sell to these customers.
Just suppose a Facebook-type customer issued an RFP for 500PB of storage over the next three years; how would suppliers respond? Such a RFP would specify highly-reliable, fast and very scalable storage that is cheap to buy and cheap to run.
Dell perhaps has an edge here with its contract to supply customised storage boxes for Microsoft's Azure cloud data centres. EMC's Atmos is designed for such uses. Which other suppliers have the kit that could do this job?
The report identifies Samsung as being well-positioned because of its DRAM and NAND with MCP (Multi-Chip Package) capability. Storage companies with unclear positioning are listed as HP, and Western Digital and Seagate for unclear SSD intentions. The big storage winners are the ones supplying device-level storage, network storage and cloud data centre arrays. Who they will be is yet to be seen, but Samsung and Dell apear to be in the right places at the right time. ®