The year in tech lunacy - an El Reg guide
Eight moments to remember
Super-salesman Dell does a netbook Ratner
"Doing a Ratner." It has now entered the popular lexicon as a way of describing someone who criticizes their own company with disastrous consequences. During a 1991 speech, Gerald Ratner - the chief exec of UK high-street outfit Ratners - dropped the company's value by £500m ($812m) when he said one of his products was "crap" and another was cheaper than an M&S prawn sandwich and probably wouldn't last as long.
Which brings us back to Michael Dell. This year, Dell veered perilously close to pulling a Ratner in the netbook market. Speaking at a Silicon Valley dinner event, the super-salesman actually went in reverse on the subject of his company's netbooks. According to Dell, the average buyer gets fed up with Dell netbooks after about 36 hours.
Dell's had a tough year. Not only has it lost PC market share, its position as the world's second largest PC manufacturer has passed to Taiwanese OEM Acer, known for its full lineup of, yes, netbooks. Shame, really. Netbook sales in 2009 more than doubled over last year, while sales of regular PCs and laptops remained relatively flat at two per cent.
Amazon goes Orwellian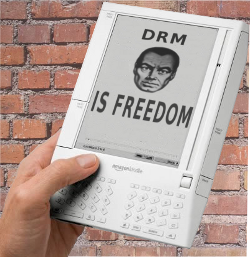 The tech industry doesn't "do" irony. It's too literal-minded. It believes too much in the power of, well, technology. But the irony is there nonetheless. Before surreptiously erasing George Orwell's 1984 from citizen Kindles, you'd think that Amazon would have thought twice. You'd think they would have seen the irony of silently removing the story of a bleak future where a large and faceless organization controls the lives of helpless individuals.
But no.
The problem was a dispute over copyright, but the incident showed Kindle users the limits of property ownership on the fledgling device. It proved that Amazon's private kindle wireless network has the power to claw back their books and libraries regardless of whether they paid for the content.
Amazon apologized and promised never to nationalize citizens' digital books again, but the law is the law. Now that Amazon has proven that it's got the tools, the courts can now force them to do so. But this seems to be lost on Amazon as well.
Microsoft evangelist: "Past, what past?"
They're called evangelists. They inhabit the netherworld between salesperson, marketing drone, and user. They're paid to proselytize, to trumpet their employer's philosophy and products. And you have to wonder if they really believe what they've saying.
So it was with Don Dodge, the Silicon Valley mover and shaker who was cut loose in Microsoft's latest round of layoffs. Dodge, a director of business development for Microsoft, was a veteran of countless startups - including AltaVista, Napster, and Ray Ozzie's Groove Networks. He was a kind of über-evangelist, selling Microsoft to hostile and skeptical developers and start-ups.
Almost immediately after Microsoft cut him lose, Dodge was wooed and hired by arch rival Google. He wasted no time blogging about the smoothness of the courtship and sticking the knife into the company that paid his salary for nearly five years.
First he dinged Microsoft for its "slow, secretive, bureaucracy". Then he cataloged how he's swapping Outlook for Gmail, Office for Google Docs, Windows Mobile for Android, and, yes, IE for Chrome. Then came the final one-two punch. First came the Office 2007 blow: "Hey, isn't this November of 2009? Why Word 2007?" he wrote. "One of the nice things about Google Docs, and all web based products, is that they can be updated continuously with no interruption to you." Then he hit Windows Mobile: "Now that I am no longer with Microsoft, I can admit I had iPhone envy. My Windows Mobile 'Smartphone' didn't measure up."
Sponsored: Minds Mastering Machines - Call for papers now open