Soaraway PC market growth for 2010, says IDC
Ballistic gizmo shipments hoist biz out of recession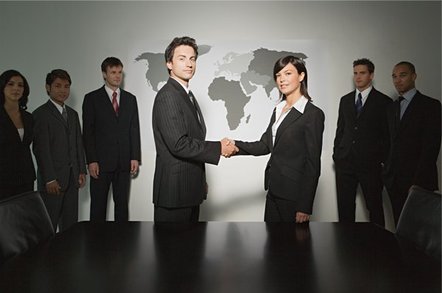 The world PC market has surged out of its recent doldrums and returned to sustained growth, according to research group IDC, which predicts double-digit gains through 2013.
"Beyond stabilizing their business, PC vendors are trying to position themselves for gains as the market recovers," said IDC's Jay Chou in a statement issued today.
"We're seeing aggressive promotions and expect innovations leveraging new technologies, including ultra-thin designs, touchscreens, and LED panels. The technology changes and efforts to stand out in an increasingly commoditized market will lead to further product and customer segmentation."
According to IDC's latest figures the PC market as a whole grew by 2.3 per cent in Q3 after three consecutive quarters of decline. The industry beancounters expect total shipments worldwide for 2009 to come in at 291.4 million, compared to 287.6 in 2008.
The big success story remains portable consumer devices, shipments of which were up 33.5 per cent compared to a year ago. Netbooks, which IDC calls "mini notebooks", surged by 27 per cent compared to Q2, taking 28 per cent of the consumer portable sector.
IDC expects overall growth to get faster next year, though desktop shipments are expected to remain "roughly flat" with portables accounting for the new gains. "Mini notebook" growth is expected to continue, but easing off as new form factors such as ultra-thin portables enter the fray in larger numbers.
"Once again, the PC market shows its resiliency," said IDC honcho Loren Loverde. "The speed of market stabilization and growth in key segments reflect the essential role of personal computing today. Technology evolution and falling prices remain a compelling combination... we expect to see robust growth over the next several years."
IDC's figures and projections can be read in full here. ®
Sponsored: Minds Mastering Machines - Call for papers now open