Acer A1 Liquid Android smartphone
Niftiest touchscreen around?
Review Over the last 12 months Acer has been spitting out smartphones like there is no tomorrow. Some of them, like the Tempo F900, have been quite good while others, like the beTouch E101, have been, ahem, less impressive. Yet none have really scored as a hit in our book, but that may be about to change with the release of the A1 Liquid, Acer's first Android phone.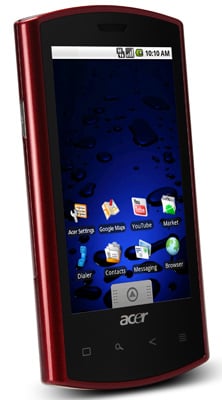 Fast and fuss-free: Acer's A1 Liquid
Just the basic specs are enough to make your ears prick up. A 3.5in 480 x 800 capacitive touch screen, Android 1.6 OS – that's Donut in Android's confectionery obsessed parlance – a Qualcomm Snapdragon 8250 CPU running at 768MHz, a 1350mAh battery, quad-band GSM, HSDPA good for 7.2Mbps downstream and HSUPA good for 2.0Mbps up, assisted GPS, Wi-Fi, Bluetooth and a 3.5mm headphone jack.
Available in either black, red or white – with rounded sides and slab ends design – embellishments have been kept to an absolute minimum. The end result is that the Liquid is handsome, but a bit dull. Considering its size and weight, the Liquid couldn't be more like Apple's iPhone if it tried. At 115 x 62.5 x 12.5mm and 135g, the two are near enough identical.
In the hand the Liquid feels a bit, well, plasticky, for want of a better word. The gloss plastic back and sides don't feel as solid in the hand as the matte-finished HTC Hero does. The Liquid is also a little more prone to squeaks and groans when given a good old twist about the axis. That said, all the exterior buttons are finished in an attractive silver and all have a nicely damped action.
Fascia controls are limited to four touch sensitive buttons for the home page, Google search, back a step and a contextual menu. Everything else – including all call functions – is managed from the touch screen. Scattered around the edge of the handset are an on/off button, a volume rocker and camera activation button. At the bottom is a covered mini USB port and, at the top, the audio socket - and that's your lot. Three concealed LEDs are embedded in the top of the handset which display information relating to charging, calls and messages.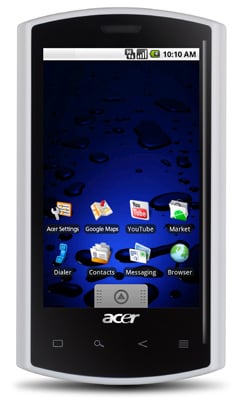 Big screen for movies, but alas, no Divx support
The TFT screen supports 256,000 colours rather than the iPhone's 16m. That said it's as bright, clear and colourful as you are ever going to want your phone's screen to be and made a more than decent job of playing back an H.264 video of the Avatar trailer at its native resolution. Acer hasn't seen fit to give the Liquid's screen the same oil-resistant coating that Apple gives the iPhone or HTC the Hero. Lay all three handsets side-by-side after use and you can clearly see the difference the coating makes.
COMMENTS
original iPhone...
was a masive pile of crap! No 3G, MMS, crap camera etc, and that 'POS with no redeeming features' got 85%?
Many of us?
"...many of us need nothing more than a good Twitter and Facebook application..."
Further, many of us don't even need that - particularly the first...
The phone? It's a bit ugly...
SenseMe
It's "Sense" UI.
And why does this phone get lauded for lacking it? At the end of the review it seems to get praise for lacking the previously mentioned as useful and nice shell that HTC provide for their phones.
Re: adnim
That sounds like a review of Android. I certainly hope the reg doesn't review Android each and every time they review an Android phone. As a "Technical Audience" isn't it safe to assume the readership either already knows the OS pretty well or can find out from other sources? This is a review of the Acer Liquid - not Android. The only OS related things we need to know are what version of Android is on it, how quickly does it run it and are there any customisations? The review covers that.
On the other hand, an in-depth review of Android or a "hackers guide" - a bit like the ones done for Linpus last year - would be very handy.
A review for consumers
As The Register is primarily aimed at IT professionals it would be nice to see in reviews of such devices more technical details. Like how easy it is to raise a terminal interface, can different user accounts with differing levels of privilege be created. What commands are available, is there a netcat equivalent for instance? How easy is it to strip the OS of bundled apps and install ones own? What shells can be run? Any scripting possible either shell or Python? It looks like a nice piece of kit, but how useful is it really beyond being a net browsing media playing phone?
I realise these details can be researched elsewhere and a certainly beyond the remit of a consumer review. However considering the demographic of El Reg readership such details would not be out of place.