IBM's XIV roadmap includes multiple frames and InfiniBand
2TB drive support also on the cards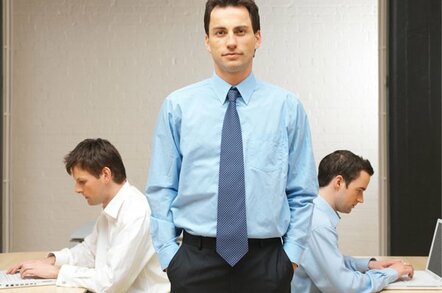 IBM is planning multiple frames followed by InfiniBand links for its XIV cloud storage products, while asserting that petabytes of multiple XIV box storage are very much easier to manage than petabytes in a single storage array.
The XIV storage product is a cluster or grid of up to 15 storage and interface nodes linked by Ethernet and using 1TB SATA drives. All its capacity is virtualised into a single, mirrored pool of storage that delivers up to 79TB of usable data capacity. Data is striped across all the drives in an XIV frame and this leads to RAID rebuild times of 30 minutes or so after a drive failure.
Customers who need more than 79TB of capacity buy multiple XIV frames but manage them from a single console. IBM's Greg Scorziello, XIV NE Europe sales director, says these multiple frames, fifteen XIVs for example, are much easier to manage than, say, a petabyte of storage in a traditional array which could have: "thousands of RAID groups."
If a drive fails its contents are rebuilt automatically. He asserts that incoming extra capacity for an XIV frame is plugged into the frame and the XIV software automatically discovers it and adds it to the pool of storage. It then balances the current data load across it, as XIV is "self-healing and self-tuning."
Scorziello says IBM has gained 275 new customers with XIV - ones not already using IBM servers or storage - with more than 1,000 units shipped globally. 70 per cent of these are to what he called white space, or the customers new to IBM. This implies that the 275 new customers have taken 700 XIV frames between them.
Scorziello said IBM's N Series - NetApp arrays - are great for file-level access but: "from a block access aspect, XIV is better."
XIV roadmap
Grant Amos, XIV sales manager for IBM UK, says IBM has multiple XIV accounts globally with more than 1PB of XIV storage. Even though XIVs are easy to manage and IBM hasn't yet met, Scorziello says, a need for a single volume that exceeds the XIVs 79TB maximum, it is going to increase XIV capacity in a 3-step process.
Initially, Amos said, XIV would support 2TB drives in the first quarter of next year, taking its capacity to 160TB, slightly more than double the existing 79TB "because less space is needed for rebuilds." He says these 2TB SATA drives will be added to XIV's tier 1 storage pool, characterising IBM's competitors as using SATA drives in slower-performing tier 3 storage pools.
XIV will have multiple frame support added in the second half of 2010 with both frames' storage virtualised into a single pool. The two arrays (frames) will be separate. However, consistency groups will span array boundaries. The network link between the frames will be Ethernet.
A third and later development will be the addition of InfiniBand support for linking XIVs, although "we don't currently see that as an issue."
The picture that emerges is one of block-access XIV frames scaling up with 2TB drives and, no doubt 4TB drives when they arrive. This will be followed by a scaling out with multiple frames and then some form of frame federation, based on InfiniBand connectivity. This should put paid to any ideas that XIV is in a technological dead end. ®
Sponsored: Minds Mastering Machines - Call for papers now open