LG 42SL9000 42in LED-backlit TV
Ultra thin and frameless too, apparently
Another useful feature is a 'Picture Wizard'. This walks you through setting up the TV – including colour settings, contrast, sharpness, and brightness – without needing a separate test disc. It's a handy feature and, when you save the results, you can choose which inputs it should apply to. There are also 'Expert' picture settings, which offer a huge degree of control, including individual contrast settings for RGB. Our only niggle here is that to change the 100Hz motion control features, you need to go into the Expert menu, which is comprehensive enough to be scary for novices.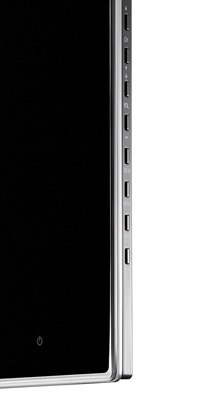 Edge of darkness: excellent contrast thanks to the LED backlighting
In terms of picture quality, the LED backlighting does make quite a difference; compared to the conventionally illuminated Panasonic V10 LCD we also have in the same room, blacks are much blacker and contrast is excellent; black bars above widescreen images really are properly black, and there's 24p support for film lovers too.
There's a wide range of default picture settings and modes, which you can cycle through easily at the push of a button on the remote, though purists will prefer to set up one of the expert modes and leave it at that, and likewise turn off the energy saving and dynamic adjustment features. SD pictures look good too, even on some of the ropier channels like ITV4, and while the sound isn't stunning, it's certainly adequate, with no annoying rattles – but you'll never get great bass from a set as thin as this – connecting to an external Hi-Fi is your best bet.
We did see some smearing, however, when using an external Freeview receiver, which wasn't present on the built-in one, probably due to the edge enhancements, which couldn't be disabled on the component input. Furthermore, when connecting with component, there's no auto-aspect ratio switching using the line 23 signal.
Another niggle, though one easily resolved with judicious placement of a domestic knick-knack, is the power light on the front. It glows red when the set is off and white – really, quite bright, white – when turned on, which you'd probably notice anyway, what with the picture showing on the screen. Frankly, it's a distraction we could do without.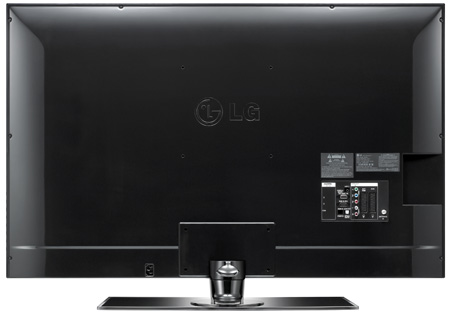 Comprehensive interfacing options, but no Ethernet
Multimedia capabilities are becoming more and more common on TVs these days, but the LG is a bit peculiar in that regard. It's certified for DivX HD, and the manual boasts support for a wide range of formats including MKV, Transport Streams, H.264, DivX, Xvid, and VOB. It doesn't, however, support AVC HD files (.mts) or WMV.
Sponsored: Minds Mastering Machines - Call for papers now open