Mesh intros bonkers BMW-designed gaming PC
Weird chassis, mad price
UK PC maker Mesh has fitted out Thermaltake's bizarre BMW-designed computer case and turned the engine-inspire chassis into what it claims is the ultimate DirectX 11 gaming rig.
Dubbed the Mesh 7, the monster machine comes equipped with a 2.66GHz Intel Core i7-920 quad-core CPU, 6GB of 1666MHz DDR 3 memory in tri-channel configuration, Asus P6T SE motherboard and an AMD ATI Radeon HD 5970 dual-GPU graphics card.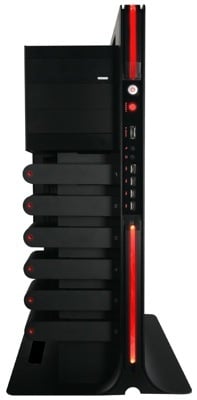 Mesh 7: BMW designed this case
The storage array comprises a 64GB Samsung SSD for the OS - 64-bit Windows 7 Home Premium - and apps, and an unnamed 1TB 3Gb/s Sata drive for data. There's a Blu-ray Disc and DVD writer too
The 7 ships with a Razer Arctosa gaming keyboard and a Razer Copperhead gaming mouse.
Describing the machine as "not for the faint-hearted", Mesh said the base price of the 7 is £2699. For a mere £49 extra, buyers can also have Mesh's "Performance Pack" comprising "a Thermaltake Contact29 Cooler, Performance updates and specialist cabling".
More details from the manufacturer's website. ®
COMMENTS
Nice looking PC
Looks nice but I sure as hell wouldn't spend that kind of money on a PC, I build something similar for a lot less.
It is just me or is there a hint of the PS2 in that design?
Specialist cabling?
Please explain?
Does a specialist do the cabling, as opposed to some spotty-faced trainee? Do they use cables specially designed for the job? If so, what do they normally use?
Looks Like
Darth Vaders Sith Blade server and a disc array to me... but on its side......