Chumby internet-connected alarm clock
Widget-tastic bedside companion
Music can also be sourced directly from iPods – and only iPods - or USB sticks. DRM-free MP3, Ogg, AAC and Flac files are all supported. The alarm clock lets you wake up to any radio station or music source of your choice and those two speakers chuck out a decent enough sound even though they won't keep the audio engineers at Logitech or Pure awake at night.

You manage Chumby's widget Channels on your PC
Curiously, you can't access image files from USB sticks, which seems a bit of an oversight to us, nor is there any support for video playback other than Flash-encoded files streamed by an on-screen widget. At the end of the day, the Chumby has to make the best out of its 350MHz ARM processor and 64MB of RAM so you can hardly expect it to be a multimedia powerhouse.
Loading widgets involves setting up an account on Chumby's website and then mating your Chumby with your account. It's all very simple and once done you can create different channels with different sets of widgets. Moving to a new channel is a simple matter of tapping New Channel in the Chumby's settings menu. If you find you have loaded a truly annoying widget, you can delete it directly from your Chumby.
The Chumby website currently hosts some 1300-odd widgets - you can find a complete list here - which range from the useful – a Gmail client, Facebook and Twitter apps – to the wholly frivolous, such as the one that simply shows a video of a dog licking the 'inside' of your screen. In between, there are a host of weather and news feeds, and widgets to let you access images from the likes of Flickr, Picasa and Photobucket. Inevitably, there are more than 200 different clocks.
The amount of functionality you get varies from widget to widget. Some also take advantage of the Chumby's built-in accelerometer, which allows you to shake it for a reaction. You can also download the Chumby source code – the OS is based on Linux - if you fancy cooking up some widgets of your own.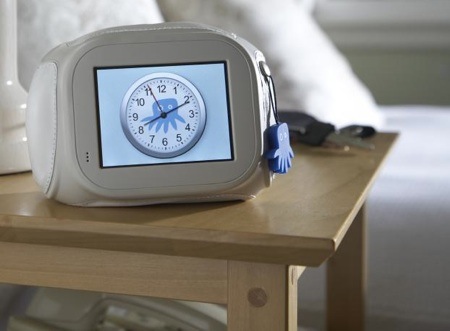 More 'nightstand' than 'bedside table'
When in use, the Chumby continually cycles from one widget to the next unless you are actually doing something with it. The time a widget spends on display can be altered on an individual basis so, for instance, you can have ten minutes of your Flickr account followed by 30 seconds of Twitter, ten of the weather and 20 of the news. If that sounds like information overload, you can also pin one widget to appear continually. Any music streams continue to run in the background while the widget player does its thing.