Steel-woven wallet pledges to keep RFID credit cards safe
Blocks wireless snoopers
Worried someone may try to wirelessly nab your personal details from those RFID cards in your wallet? Get some peace of mind with the "identity theft preventing privacy wallet", its seller claims.
We kid you not. According to its online retailer, the wallet is woven from over 20,000 super-fine strands of stainless steel which "protects your ID like armour plate".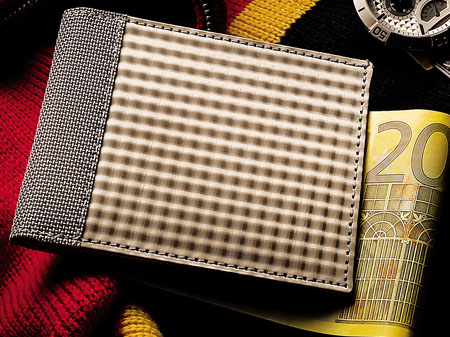 Stainless steel stitching protects cards from wireless data theft
The idea is sound, in principle. The stitching methodology reminded us of a Faraday cage – an enclosure designed to block out external electric fields.
The wallet promises to completely shield its contents from today's hi-tech pickpockets, while also being stronger than leather.
Speaking of contents, the wallet can hold six cards, has two internal slots and a billfold – that's a fiver folding flap to our British readers.
Two designs are available – "Smooth" and "Engine-Turned" - online now, each priced at $80 (£49/€55). ®
COMMENTS
What??
How is "the point" of RFID cards that they can be used while still in the wallet? There is no way they could have blindly thought that would work...Personally I have 4 cards in my wallet...Cash, 2 Debit and one credit....I really don't fancy the till playing RFID Roulette when I pay for stuff I'd much rather know which account I was paying from.
Magnetism
Try sticking a fridge magnet on a stainless steel fridge.
or 20s in microwave
Also works for chip & pin, passports, the nasty trackers they put in shoes...
Old, old, OLD.
ThinkGeek has had RFID blocking wallets (and Duct Tape wallets, for that matter) for YEARS. It's considerably cheaper too, even with import duties. The also have one for your passport.
This was news in 2004.
Umm, excuse me?
What happens if you take your card out of the wallet to make a transaction?
Or doesn't that count because there's no "nasty" scanner nearby?