The large trackpad is responsive and can handle two-fingered gestures, but we found our palms consistently activating is while typing – certainly more so than on other laptops we've tested. In an attempt to sort it out, we headed into the Synaptics driver and whacked the PalmCheck feature to its highest level – this attempts to prevent the trackpad responding to your palm. This improved matters, but we'd prefer to have a dedicated on/off button for the trackpad.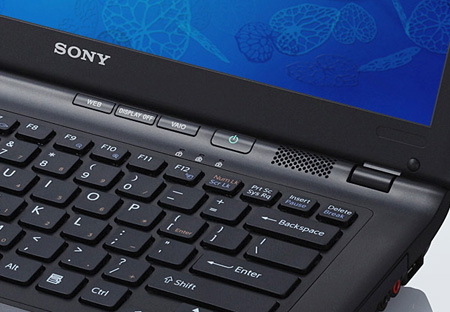 Fire up Linux-based Splashtop with the Web button
Three short cut buttons sit just above the main keyboard. If you're simply using the laptop as an oversized MP3 player, hit the Display Off button and the backlight will be extinguished, thereby boosting battery life. When Windows is running, the Web button simply launches a new browser window, but when the laptop is switched off it loads Firefox 3 via the Linux-based Splashtop 'instant-on' application. Sony neglected to install this software on our review sample, so we can't report on how well it works.
The 14in display is given Sony's glossy X-black treatment and has a native resolution of 1366 x 768. It's reasonably bright, but horizontal viewing angles are limited and it soon looses its shine when you veer from a centre-on viewing position. In fact, we found it hard to position it so that the entire screen appeared evenly lit.
Other specs include 802.11n wireless courtesy of an Intel Wi-Fi Link 5100 card, Bluetooth and a 320GB hard drive. As expected, Windows 7 Home Premium is charged with holding everything together, and Sony's sensibly gone for the 64-bit version.
Given its relatively low price tag (for Sony, at least), we were somewhat surprised to find Sony had furnished the laptop with a 2.13GHz Intel Core 2 Duo P7450. A 45nm chip with a 25W TDP, the P7450 has 3MB of L2 cache at its disposal and runs off a 1066MHz FSB. A total of 4GB DDR3 memory accompanies the processor.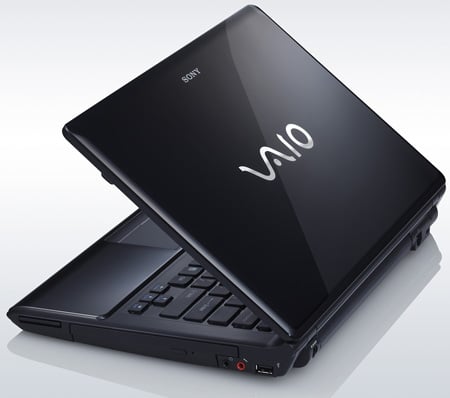 Compact, but not the slimmest and a bit weighty too
In the 64-bit version of PCmark Vantage, the P7450 helped to produce an impressive overall score of 3815, which indicates it's perfectly capable of handling processor-intensive applications. In the older PCmark05 test, it managed an overall score of 4871.
COMMENTS
@AC 14:53 GMT
Educational software designed to run under 32 bit XP will run fine in windows 7 so no need for XP emulation.
DO NOT...
...FEED THE TROLL!
Budget VAIOs
Not sure why Reg is so surprised by budget VAIOs. This isn't the first. Their NW, AR and FW series has always been affordable too. It is just their high end VAIOs tend to get more coverage.
Anyway good notebook. My mate bought it last week and it is pretty darn good value, has a good build quality (quite unlike cheap HPs and Acers) and can play most games.
But it's a sony
which means that within 2 years when the power brick fails, Sony will have stopped selling them and you will be tempted to buy a cheap nasty replacement from ebay (which only has a 2 week life expectancy).
Likewise a replacement battery from sony will set you back three quarters of the price of a new laptop with specs better than your current vaio.
The only sony product I like is the PS3 because it has ongoing support (only because they make more money from the online store and the game licensing than they do the physical hardware).
Cheap and nasty
i was looking at one of these, but the case plastic is thin and it looks cheap, glad i have a Ford Mustang, well worth the extra money.