Business application suppliers: What do we want?
Looking ahead to the next decade
In terms of scope, feedback from Reg readers points to a growing expectation around packaged application suppliers being able to provide integrated capability either out of the box or as standard options in areas such as business intelligence, collaboration and mobile access (Figure 1).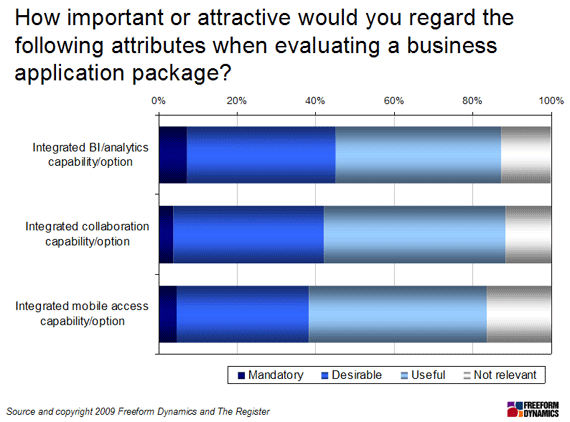 Figure 1
As we look forward, we would expect medium and smaller-sized organisations to be particularly interested in this as they are more likely to take advantage of capability in these areas if it can be either 'switched on' or 'plugged in' to one of their core packages. Investment in dedicated infrastructure and solutions outside of the core system can sometimes be difficult to justify and manage, especially when IT resources are limited and over-stretched as they often are.
Speaking of resources brings us onto the role of outsourcing, and the role of alternative delivery models such as software as a service (SaaS). While the response to SaaS in the mainstream business sector has been very lukewarm to date, with many being suspicious in areas such as security, compliance, integration and lock-in, the emergence of relevant standards and a general maturing of behaviour among the service provider community is likely to open things up in the coming decade.
Whether core applications such as ERP are the most sensible place to start looking at where 'the cloud' fits into your strategy is still very questionable, but elements of CRM (eg sales force automation) and some of the abovementioned options around collaboration and mobile access are arguably better delivered as a hosted service due to their network centricity.
However, we need to remember that once you move into the cloud the need for systems integration doesn't go away; there may be several suppliers involved in the chain, so it is important that they play nicely together to provide the level of support expected in a proactive 'non-finger-pointing' manner. This will put even more emphasis on ecosystems and communities, and perhaps lead to a greater role for social media to allow customers to help each other, providing mutual support and exchanging ideas and best practice.
Overriding all of this, the most sought-after attribute from business application providers over the coming decade will be value-oriented customer centricity. Too often in the past, suppliers have got away with restrictive commercial practices and imposition of constraints for selfish reasons. From licensing terms, through who you are allowed to buy maintenance and support from, to whether or not you are supported in a virtualised environment, there are many examples of suppliers maximising their profits, minimising their overheads and exerting market control through defensive business practices at the expense of customer value, choice and flexibility. This has to change.
But that's just our view. What do you think is important in the packaged application arena as we look forward to the next decade? We would appreciate your comments in the discussion area below.
Sponsored: Minds Mastering Machines - Call for papers now open