AMD ATI Radeon HD 5970 two-GPU graphics card
Serious performance, serious price
The reason for this tiny overclocking headroom is that AMD has set the core voltage to 1.105V and the memory voltage to 1.1V. For this reason, AMD issued copies of its ATI OverVolt tool to favoured reviewers but not us, or punters. We are told this software allows you to raise the voltages to 1.1625V and 1.15V in a single step as on On/Off switch.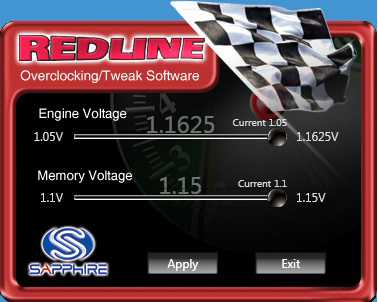 Sapphire's Redline utility lets you up the GPUs' voltages
We installed Redline tool which allows you to increase the voltages in steps. We immediately hit a snag when the utility refused to run as, apparently, it was developed on Windows Vista and doesn't much like Windows 7. We created a short cut to the utility and set it to run in compatibility mode with Windows XP and, lo, all was well.
We ramped up the voltages to the max and were able to overclock to 890MHz/4600MHz which means we effectively restored the HD 5870 clock speeds. We measured an increase in power draw at the mains plug from 350W to 380W. That's a modest amount of extra power but you have to wonder just how much more load the next generation of DirectX 11 games will place on this type of hardware.
Put it this way, we strongly suspect that AMD has chosen the voltage settings and clock speeds with very good reason. Overclockers, proceed with caution.
If you prefer to throw caution to the wind you might like to consider the Asus HD 5970 Voltage Tweak which allows a core voltage of 1.35V and has a claimed overclocking potential of 950MHz core and 5012MHz memory. And presumably you can also use it to grill sausages.
Verdict
Spending more than £500 on a graphics card is a serious decision. When you consider that we thought the HD 5870 was over the top, it will come as no surprise that we classify the HD 5970 as a frivolous toy. But, darn it, what a toy. ®
Sponsored: Minds Mastering Machines - Call for papers now open

AMD ATI Radeon HD 5970 two-GPU graphics card
Well over the top, but it's the fastest AMD graphics card money can buy.
Price:
£520 (HIS) £530 (Sapphire) RRP