AMD ATI Radeon HD 5970 two-GPU graphics card
Serious performance, serious price
AMD has carried over the Volterra VT1165 Digital Programmable Regulators that have been used on previous graphics cards such as HD 4890, along with chips from Texas Instruments that allow real-time power monitoring. We understand these chips allow AMD to throttle performance if the thermal levels rise to unacceptable heights.
3DMark Vantage Results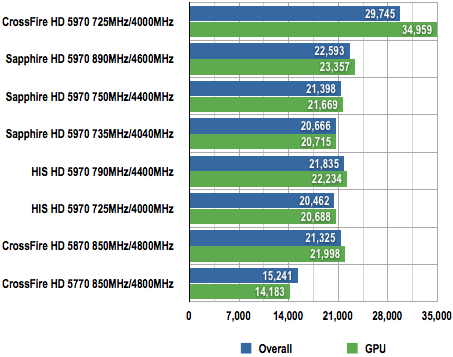 Longer bars are better
We lined up an HIS Digital HD 5970 with reference speeds of 725MHz/4000MHz and a Sapphire card that has the most miniscule overclock we have ever seen: 735MHz/4040MHz. That's right, the core and memory are overclocked by a paltry 10MHz.
It may sound trite but running the two cards on our Core i7 test rig - Core i7-965, Intel DX58SO motherboard, Intel X25-M SSD and Windows 7 Professional - delivered epic performance in 3DMark Vantage, Battle Forge and Far Cry 2.
An HD 5870 churns out pixels and frames at a rate that is practically obscene so it comes as no surprise that the two chips in HD 5970 deliver more of the same. CrossFireX isn't a perfect science and based on our experiences we reckon you can expect your HD 5970 to deliver 25-50 per cent more performance than an HD 5870.
Interestingly enough, the power draw that we measured at the mains socket was 290-300W with the system under load. That's the motherboard, memory, CPU and graphics card so we can say that either we didn't have the graphics card fully loaded, or AMD as been cautious with its power figures. We'll vote for the first option as we doubt that any current game will properly stretch an HD 5970/Core i7 combo.
System Power Draw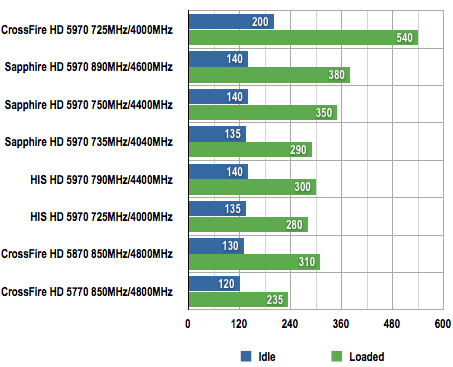 Power draw in Watts
Adding the second HD 5970 in CrossFireX raised our test results even further. In 3DMark Vantage, the overall score was 29,745 and the GPU score was 34,959. The HD 5870 of has a GPU score of 15,778.
Sponsored: Minds Mastering Machines - Call for papers now open