AMD ATI Radeon HD 5970 two-GPU graphics card
Serious performance, serious price
So there we have it. An HD 5870 has prodigious performance and HD 5970 goes a step further. The HIS package costs £520 and consists of the graphics card, a voucher for Dirt 2, a DVI-to-VGA adaptor, a DVI-to-HDMI adaptor, said mini DisplayPort-to-DisplayPort adaptor and power adaptors for both six- and eight-pin connectors.
Battle Forge 1.1 Results
1920 x 1080, Very High Quality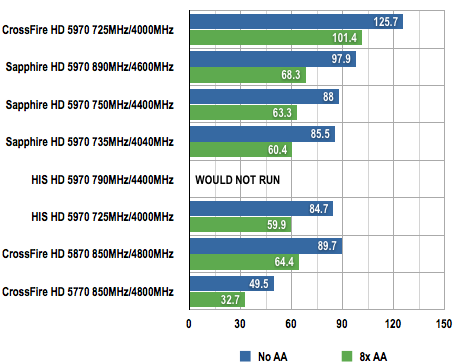 Average framerate in frames per second (f/s)
Longer bars are better
In addition, HIS includes a basic tool kit - screwdrivers and torch - and a limited number of HIS cards will come with an iClear card that claims to reduce interference between your sound card and graphics card. We have no idea whether this is a valid claim or pure hokum.
The Sapphire HD 5970 costs £530 - so a pound extra for each of those extra megahertz of clock speed - and includes the same adaptors and Dirt 2 voucher, but you get something extra on the CD: a copy of Sapphire's Redline utility.
When it comes to overclocking the HD 5970 is more interesting than you might expect. Most graphics cards will overclock by at least ten per cent unless they are a factory overclocked model that is already close to its limits.
AMD makes something of a song and dance about the fact the HD 5970 is unlocked for overclocking – surely just like every other graphics chip on the market - and the OverDrive settings in the Catalyst drivers have maximum settings of 1GHz core speed and 6GHz for the memory speed.
Far Cry 2 Results
1920 x 1080, Ultra High Quality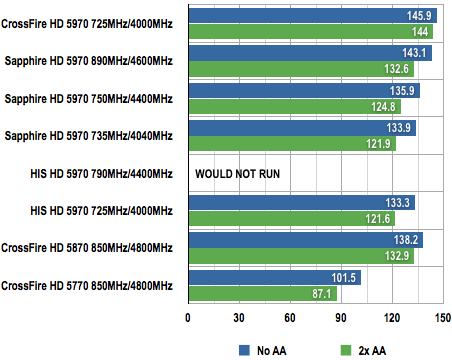 Average framerate in frames per second (f/s)
Longer bars are better
That's a huge step from 725MHz - or 735MHz - but we found that the Sapphire would only overclock to 750MHz/4400MHz, while the HIS went a little further, to 790MHz/4400MHz.
Sponsored: Minds Mastering Machines - Call for papers now open