Revolutionary triangular-key keypad out on Android
Google OS snaps up Crocodile Keyboard
A virtual smartphone keypad with keys shaped like a crocodile's teeth has finally seen the light of day, launching in the Android Marketplace this week.
The Crocodile Keyboard's triangular keys have significantly more 'dead space' around them than you'll find on a standard rectangular-key Qwerty layout. The result, claimed David Baker, Managing Director of Crocodile Keyboard Ltd, is that users are more likely to press the correct key each time they tap.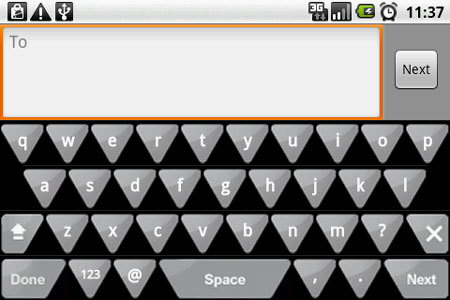 The Crocodile Keyboard: more accurate than regular key designs
Although Baker originally hoped to launch the keyboard on the iPhone, he and a team from Brighton University have since adapted the software for use on Android instead.
Baker said that since the iPhone's own virtual keyboard can't be changed, his keyboard could only exist as a separate app on the Apple phone. So no using the Crocodile Keyboard to enter URLs into Safari, for instance.
Baker admitted that some tweaks are still needed to be made to the Android version and - over the next 24 hours - an update will see the keyboard enlarged for portrait mode use.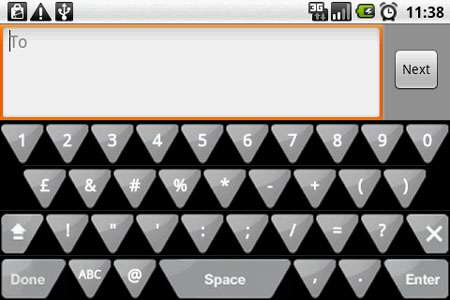 Flip for numbers
The keyboard will also receive a major update in May, allowing users to rearrange the existing Qwerty key layout and access a variety of shortcuts.
Baker's own research apparently indicates that colour-blind users benefit from viewing the keyboard's keys in one colour and background space in another, so he even plans to add a colour wheel into the 2010 software update.
Users of the Google OS can buy the app now for £2 through Marketplace. ®
Sponsored: Minds Mastering Machines - Call for papers now open