NASA aims for Friday WISE up
Wide-field Infrared Survey Explorer set for launch
NASA's Wide-field Infrared Survey Explorer, aka WISE, is scheduled to blast off on Friday from Vandenberg Air Force Base in California on its mission to "scan the entire sky in infrared light with a sensitivity hundreds of times greater than ever before".
All being well, WISE will be carried aloft atop a Delta II rocket during a launch window stretching from 14:09 to 14:23 GMT. Once it reaches its working orbit of 500 km, it will set about its six-month mission to capture 1,500,000 images which will offer a "cosmic clearinghouse of hundreds of millions of objects that will be catalogued and provide a vast storehouse of knowledge about the solar system, the Milky Way, and the universe".
Specifically, WISE will "uncover objects never seen before, including the coolest stars, the universe's most luminous galaxies and some of the darkest near-Earth asteroids and comets".*
To do this, it's carrying a 40-centimetre-diameter (16-inch) telescope and four one million-pixel infrared detectors, all packed in a frozen-hydrogen-filled cryostat designed to keep the instruments at 12 Kelvin (-261°C).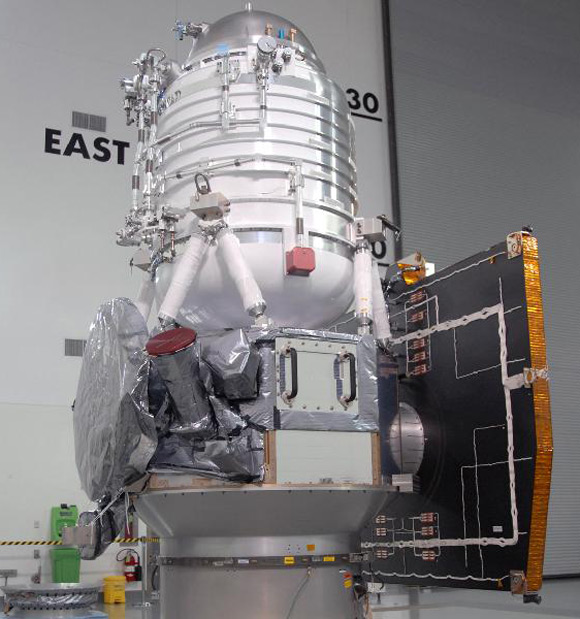 The whole package (seen above with solar panel at right) is described by NASA as resembling "a giant Thermos bottle" or "the Star Wars robot R2-D2", and being "about the height and weight of a big polar bear, only wider".
For those of you who prefer standard units, it's "2.85 meters tall (9.35 feet), 2 meters wide (6.56 feet), 1.73 meters deep (5.68 feet) and weighs 661 kilograms (1,433 pounds)".
NASA has the mission overview here, and full spacecraft and instrumentation details here. ®
Bootnote
* In a minor Bruce-Willis-alert moment, NASA says of asteroids and comets:
The mission is expected to find hundreds of these bodies, and hundreds of thousands of additional asteroids in our solar system's main asteroid belt. By measuring the objects' infrared light, astronomers will get the first good estimate of the size distribution of the asteroid population. This information will tell us approximately how often Earth can expect an encounter with a potentially hazardous asteroid.
Sponsored: Minds Mastering Machines - Call for papers now open