Acer Aspire 5738DZG 3D 15.6in notebook
World's first 3D laptop – are the specs up to it?
Things improve when you drop resolution and detail settings, but it's hardly ideal and we can't help feeling Acer should have upped the price and included a more capable graphics card. And with the Pentium Dual Core T4300 processor that's found on retail models, frame rates will fall further.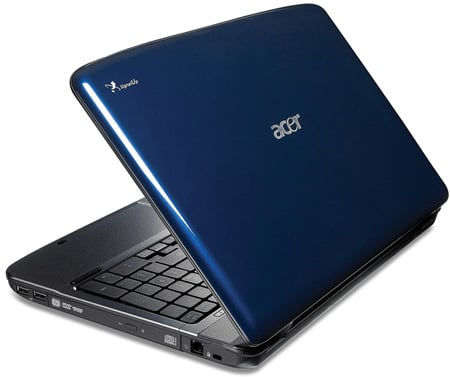 Good-looking, but under-powered
In PCmark Vantage, the laptop achieved an overall score of 4359, but once again you should bear in mind this is with the Core 2 Duo P7350, not the T4300. When run in a continuous PCmark Vantage loop, the battery lasted 92 minutes.
So how much of a premium are you paying for these 3D shenanigans? Well, you have to look no further than the almost identically-specified, but decidedly 2D, Aspire 5738ZG, which can be picked up £100 cheaper than this 3D model.
Verdict
Although the 3D demo material looks good, we experienced mixed results when converting content that wasn't designed with 3D in mind. Photos and videos remained flat, but we were fairly impressed with the games we tested it on.
The big problem is that the TriDef software places too much of a strain on the laptop's rather limited graphics resources, and in order to get decent frame rates we had to whack detail and resolution settings right down. Given that this laptop is all about 3D, we can't understand why Acer has gone for a relatively low-powered graphics card. Sure, it keeps the price down, but it also cripples one of best 3D features. In short, we recommend waiting for a higher-spec model to appear. ®
More Laptop Reviews...

Samsung
X520

Toshiba
Satellite
L450-137

MSI
X-Slim
X600

Dell
Studio
15

Acer Aspire 5738DZG 3D 15.6in notebook
Low-powered graphics cripple what could have been an impressive 3D laptop.