Acer Aspire 5738DZG 3D 15.6in notebook
World's first 3D laptop – are the specs up to it?
However, one of the problems with Acer's polarised 3D technique is that you need to keep your head fairly still. Move it up or down from the sweet spot and you'll notice some nasty ghosting effects. This proved to be a real problem when playing games since it's very hard to remain still while engrossed in a frenzied battle.

The left and right eye view of one of TriDef's specially-created 3D images
The TriDef software wasn't quite as good at converting 2D movies into 3D – a wide range of video formats are supported, as well as DVDs – and we noticed little or no depth. The same goes for converting photos to 3D, which can be performed by right-clicking an image or loading it through the TriDef utility.
Another issue with the 3D effects is that they take up a fair amount of resources. Before examining just how much they eat up, we'll take a quick look at the laptop's benchmark results without the TriDef software getting in the way.
With its Mobility Radeon HD 4570 graphics card, we weren't expecting wonders in 3Dmark Vantage. However, alarm bells started ringing when it returned an overall score of 781 along with a warning that 3Dmark believed the laptop to be under performing. After a bit of research online, we discovered reports of performance increases being achieved by disabling ATI's PowerPlay technology. Designed to improve battery life by reeling back the GPU when its full power isn't required, PowerPlay should, theoretically, not impede performance when the laptop's plugged in.
However, with PowerPlay completely disabled, we experienced marked increases in performance, with 3Dmark Vantage jumping to an overall score of 1145. Games featured similar improvements, with both Far Cry 2 and Call of Duty 4 experiencing a performance boost of around 40 per cent. Odd stuff indeed, and the finger of suspicion has to be pointed at the Acer-specific Radeon HD 4570 driver. Hopefully an update will solve the issue, but for now we recommend disabling PowerPlay.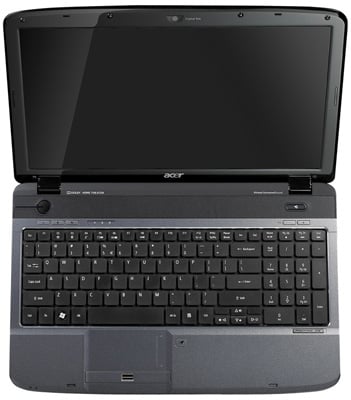 The low-profile keyboard comes complete with a numeric keypad
Perhaps the biggest problem for the Aspire 5738DZG is that when you switch the 3D on, performance takes a fairly large hit. With detail levels set to high, we achieved 29.5fps at 1366x768 in Call of Duty 4 when played in old-fashioned 2D. Running the game in 3D through the TriDef software, however, resulted in frame rates dropping to an unplayable 11.6fps. It was a similar story in Far Cry 2 – a speedy 22fps in 2D, but just 6.2fps in 3D.