Acer Aspire 5738DZG 3D 15.6in notebook
World's first 3D laptop – are the specs up to it?
In an attempt to create a more affordable 3D experience, Acer's gone for a slightly different approach. Instead of active glasses, the 5738DZG uses a polarised pair of specs; Acer includes both a standard set of behind-the-ear glasses and an attachment for bespectacled folk.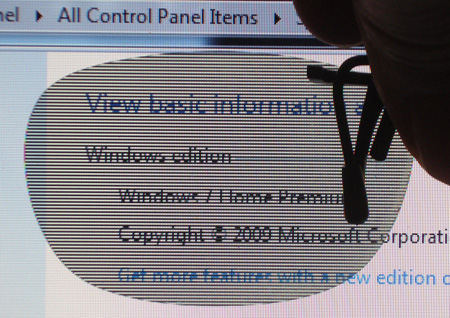 The polarised screen as seen through the left lens…
These then work in conjunction with the laptop's polarised display and mean the left and right eyes see alternate horizontal lines. As long as the 3D software is running and the user is wearing the glasses, each eye therefore sees different image. Since this polarising effectively cuts the screen's resolution in two, small text can be difficult (sometimes impossible) to read.
The 3D image generation is taken care of by DDD's TriDef software. A selection of videos intended to showcase the laptop's 3D capabilities are included and accessed via the TriDef utility. Unsurprisingly, these turned out to give us the best 3D experience, especially the animated ones.
Much like those videos that attempt to show high definition video in its best light (slow, panning scenes shot from high above), these videos feature characters that constantly lurch towards the screen, thereby exaggerating the 3D effect. And being specifically designed for 3D, each eye sees a slightly different perspective.
Impressive as these demos are, the real test for the Acer 5738DZG is how it copes with content that wasn't designed with 3D in mind. The TriDef software supports a wide variety of games and you can either drag-and-drop executable files into the launch window or simply ask it to scan for compatible titles.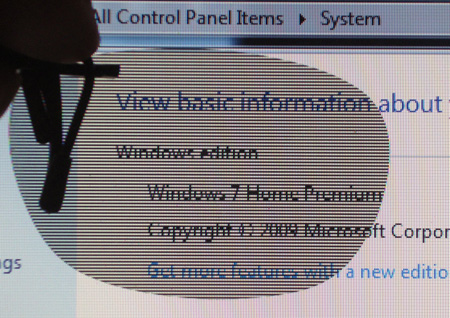 …and through the right lens
We tried out Call of Duty 4 and Far Cry 2, both of which resulted in some impressive 3D effects. Once up and running, settings (such as the depth of the 3D effect) can be altered on-the-fly. Given that these games were never designed to be played in 3D, the TriDef software has to create the 3D effects from scratch, which naturally means they're not as enticing as the demo content. That said, the games featured a good sense of depth and, on the whole, we found it to be an enjoyable experience.