Samsung P2370HD TV-monitor
A PC-TV display worth looking at?
Monitor controls are often notoriously fiddly and often quite frustrating to use. With a TV, you simply can't get away with this sort of thing – it has to be quick and it has to be easy. What's more, it has to be readable from the other side of the room. That's why the menus on the P2370HD are massive, making whole experience of setting up the display so much more user-friendly than on any standard PC display we've seen.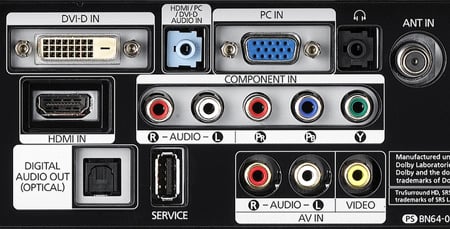 Interfacing includes digital audio
The P2370HD comes with a good selection of inputs and outputs. The usual VGA and DVI inputs provide the standard PC monitor connections, but we also get HDMI, Scart and component video, plus the ability to input both digital and analogue audio. An optical digital audio out port allows you to connect an external amplifier and speakers.
The built-in tuner is an analogue/digital hybrid, although Samsung was unable to confirm support for the DVB-T2 protocol required for Freeview HD, although we rather doubt this unit will support the feature.
The P3270HD also supports cable channels and pay TV from a CI card slot. The automatic tuning system is very simple to activate and you can choose to include or exclude the analogue channels, as well as maintain your own selection of favourites.
Watching SD content on an HD display is always going to be a little disappointing close up, and the P2370HD doesn't do the best job of scaling, as there's still some pixellation visible. However, the colour reproduction is very good and the numerous adjustments available make it easy to get a picture that looks great from more normal TV-viewing distances.

What telly would be complete without a remote?
Testing the display's performance with a Spyder 3 Elite calibrator revealed a colour gamut that's better than average by about one or two per cent. This is perfect for a display like this because – while wider colour gamuts are great for Photo editing in colour-controlled environments – this is a TV, so we want the display colours to look natural without the need for any adjustments.
Sponsored: Minds Mastering Machines - Call for papers now open