PS3 to support data transfer
Inside the console's latest firmware update
Sony has outlined the main features of its latest PlayStation firmware update, which includes a data transfer application.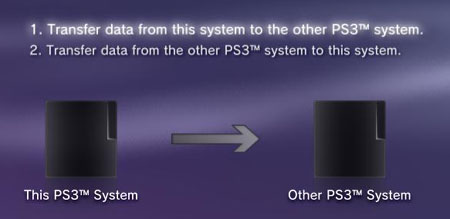 A screenshot of the PS3's Data Transfer Utility, which features in firmware 3.15
Firmware 3.15 will let you transfer all of your saved data from one PS3 to another. We assume the update supports both the old, chunky PS3 and the slimline model – even though Sony's picture of the feature (above) only shows the latter machine.
Content such as games, saved-game data and videos downloaded from the PlayStation Network will be automatically deleted from your old machine once you initiate the transfer, Sony staffer James Thorpe said on the firm's PS3 blog. Personal media files – photos, music and videos – can be transferred without your old machine subsequently culling the data.
Firmware 3.15's other exciting feature concerns Minis – those bite-size 100MB, or smaller, videogames available for the PlayStation Portable.
The update will let you play Minis on both your PSP and your PS3, Sony promised, by installing a Minis emulator onto the latter.
Minis will work on both consoles from 17 December, Sony added, which suggests that Firmware 3.15 will probably be released around the same date. ®
Sponsored: Minds Mastering Machines - Call for papers now open