Nokia sinks flagship store
Regent Street loses sense of childlike wonder™
Nokia is to close its 'flagship' Regent Street showcase, a few yards along from Apple's premier London Store, after two years.
According to The Times, Nokia spent £4m in the attempt to spark a sense of child-like wonder™ in the two-floor glass homage to its Californian rival, spread over 8,290 square feet.
The design of the store was apparently "inspired by the forests of Finland", and like the forests of Finland, it was sparsely populated. Even in tourist season. The 15 staff present at any one time outnumbered the one or two souls who had wandered in, although I did see Peter Stringfellow in there not so long ago, getting some 1:1 attention.
So commiserations to the 30 unobtrusive and knowledgeable staff who were employed at Regent Street; Nokia told the Times it hoped to re-employ them in other stores in the UK, where it has more captive foot traffic. Such as Heathrow Airport.
£4m isn't a lot in terms of corporate marketing budgets, certainly not for a company that's the fifth biggest brand in the world, and whose revenue is larger than the Finland state budget.
The problem is that a flagship store needs flagship gear inside it, and if you're not the Bang & Olufsen or Apple of your market - and Nokia isn't any more - then you're spending a lot to little purpose. At its Capital Markets Day last week, Nokia said it will release half as many smartphones in 2010 as it did in 2009, 10 down from 20, "to cut down unnecessary differentiation" for "a far more focused portfolio".
But at least the designers walked away happy.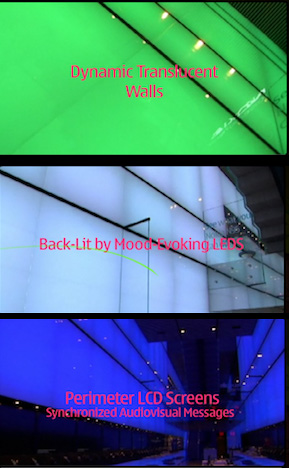 And the peak time crush, here:
Catch the video while you can, here. ®
Sponsored: Learn how to transform your data into a strategic asset for your business by using the cloud to accelerate innovation with NetApp