Android 2.0: what to expect
What's new in Google's latest smartphone OS update
For mobile web addicts, Éclair's addition of double-tap to zoom is great because it means that Android-based smartphones will finally be on a par with the iPhone's much-loved approach to quickly bringing a column of content up to full screen width. Android 2.0 also adds webpage thumbnails to your bookmarks and the ability to directly tap the browser's address bar for instant searches and navigation.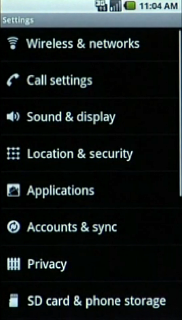 Settings... and more settings
And Google has added support for HTML 5, allowing web-based apps to be cached locally, the device to share its GPS-detected location with website and to play web-hosted video full-screen.
Surfing the web or writing text messages and emails should be much easier with Android 2.0 than previous versions. According to Google, the updated OS offers a virtual keyboard that's "virtually error-proof".
How has this been achieved? By re-jigging the keyboard layout that makes typing faster and more accurate, and leveraging the OS' new multi-touch capability to ensure that "key presses aren't missed while typing rapidly with two fingers".
The OS' dictionary will now also learn from your word use and automatically suggest names.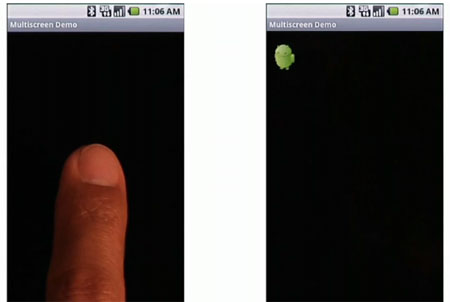 This game runs simultaneously on two Android 2.0 phones using the OS' new Bluetooth API
Android now supports Bluetooth 2.1, including the wireless standard's Object Push Profile and Phone Book Access Profile, allowing data to be sent to other devices and for them to look up information in the handset's list of contacts.
Other new under-the-hood features include the ability for developers to create custom sync adaptors that allow new types of information to be synced alongside the tradition phone book and calendar content.
Developers can set Android to run services when the handset is docked, change wallpapers from within an application and better manage an app's life-cycle according to how system resources change over time. ®
Sponsored: Minds Mastering Machines - Call for papers now open