Android 2.0: what to expect
What's new in Google's latest smartphone OS update
Snaps of pals can be already be applied to their address book entries to make it easier to spot them in the list. Now, though, you can tap on a contact's photo icon to get a mini menu of the methods by which the person can be reached: phone, SMS, email accounts and so on. The menu appears in the Email, Messaging and Calendar apps. Google has exposed the code that makes this happen, allowing developers to support the feature in their own applications and to add in other contact methods.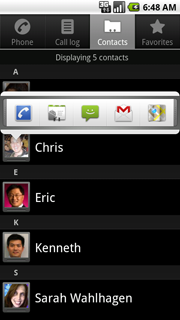 Tap a chum's icon to see how he or she can be reached
Speaking of Email, the application can now be set up to interact with Microsoft Exchange servers - though Google warns that this is optional and not all handset manufacturers may choose to support it. If you have multiple email accounts, incoming mail from all of them can now be fed into a single, combined inbox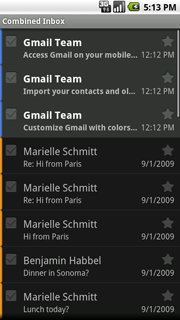 Feed all your email accounts into one inbox
Android 2.0 will keep your SMS folders tidy because it can be configured to automatically delete the oldest messages in a conversation when a user-defined limit is reached. But if you insist on hoarding every message ever received, then Android 2.0's message search feature should at least make short work of finding specific texts or pictures.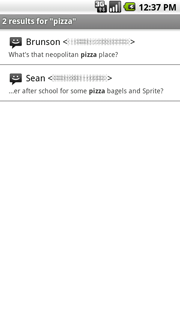 Text and media messages can now be searched
Contacts can likewise be sync'd in from multiple sources into the Éclair device's one address book. Any contacts who you've invited to join a meeting that you've scheduled and added to Android 2.0's Calendar app will appear separately, the better to show which ones will be coming along and those who won't. Further guests can be invited after the initial invitation has been sent.
Sponsored: Minds Mastering Machines - Call for papers now open