The music player is a fine one too, with an attractive interface and better-than-average headphones, which come with little noise-isolating grommets, and offer a muscular low end, though they lack refinement in the upper registers. There's a basic FM radio which doesn't appear to do autotune and there's access to a seemingly random array of Internet radio stations too, plus an FM transmitter so you can stream your sounds to your car radio.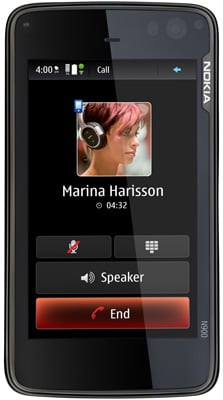 In all areas, the N900 sports an appealing user interface
It will play MP3, .WMA, .AAC and WAV audio files and there's a hefty 32GB of onboard memory to keep them on, though this can be increased by an extra 16GB with a microSD card. Call quality is very good too, with a full, well-rounded tone to speech from the speaker.
With all these good things going on, the battery on the N900 was a bit of a disappointment, since it barely lasted through a day of fairly heavy use. There are options to dim the screen and extend the screensaver time, but we'd still have preferred something a bit more potent.
Verdict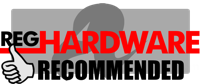 Some may find the size a concern, but it's mainly a consequence of accommodating slide-out keyboard. In use, the keyboard, despite its compact layout, works very well and the camera is head and shoulders above what you'll find on the iPhone. Overall, the Nokia N900 is a joy to use and full of good things that we liked very much, though it still feels like something of a work in progress. The Maemo 5 OS is very promising on this evidence – fast and useable, once we'd got our heads around the basic set-up, and bound to be much more versatile in a few months' time as more apps and features are added. ®
More Qwerty Smartphone Reviews...

Nokia
E72

Motorola
Dext MB200

RIM BlackBerry
Bold 9700

Samsung
GT-C6625

Nokia N900 Linux smartphone
The Maemo 5 OS gets Nokia into the ring with the iPhone, even if it can't quite deliver a knockout punch.
COMMENTS
Happy N900 owner
I've had a N900 since Tuesday and I'm loving it. Yes it's a bit of a brick because of the slide-out keyboard but no worse than the N97, in a handset that is more versatile than the good old Communicator phones.
In terms of hardware, it feels very responsive thanks to the Arm processor and the GPU. The touch screen is very nice to use, a lot better than the N97 and on a par with the HTC Tattoo. The stylus is useful when browsing web sites set in small size fonts as it's easier to hit the links with it than with your thumb, but the rest of the interface doesn't require the stylus. In fact, the only hardware snafu is that the headphone socket is located such that the headphone jack interferes with typing on the keyboard when you have it plugged in.
As a phone, it's the best one I have owned for a very long time. The sound quality is excellent and crystal clear. Signal reception is also very good. The past 3 handsets I've had would be unable to get a signal if I strayed more than a few metres away from the windows in my flat. The N900 shows maximum reception throughout the building. I suspect this is because it's very good at switching back to stronger 2G or 2.5G signals when it is out of range of a 3G signal.
In terms of connectivity, Wi-Fi also works flawlessly and the phone will automatically switch to Wi-Fi for internet services as soon as you are in range of a known network. In my case, as soon as I am back home, it reconnects to the home Wi-Fi and disconnects 3G services. This can have an interesting side effect as the N900 can also work as a Skype phone: configure your Skype account and it will give you the option to call Skype contacts through VOIP rather than a standard call. I haven't tried that yet though so I don't know how well it works.
Push email is very easy to set up and it knows the defaults for a number of well known providers, including Google, in which case you will get a simplified wizard. Calendars can only be local at the moment but the interface suggests that shared calendars are on the roadmap and should be available at some point.
When it comes to software, Maemo is indeed based on Debian and you can add more repositories to get access to more software. In particular, you can enable the Extras repositories to have access to admin tools such as an ssh client and server. What this also means is that, contrary to a lot of network branded handsets out there, whenever an update is available in the Maemo repositories, it will offer you to update your system. So any bug fixes or new features will make their way down to your handset.
If you want to develop your own apps, there is a whole development kit that you can install on Debian, Ubuntu or Fedora and that enables you to write Python or C++ apps (sorry, no Java). Or you can simply write good old Python (2.5), Perl (5.8.3) or shell scripts. You can even do that directly on the handset: it comes with a terminal app, it's got vi installed and if you really miss syntax highlighting you can get vim or PyGTKEditor from the Extras repositories.
The N900 is not for everybody but it's a geek's dream, in addition to being an excellent phone.
It's not a smartphone!
I'm sorry, but that review missed the main point completely, it's not a smartphone. It's a portable computer running with a flavour of Debian. You can run any program on it, provided it's availiable for ARM in one of the repositories or you can compile it yourself.
This is not meant to be a traditional PDA whoose only purpose it is to sync with Outlook. Neither is it a media player. It's a device you can install openvpn on, and log onto from another computer. Or you can mount shares via NFS, SMB or even sshfs. Or you can sync a directory with rsync.
It's a computer with a UMTS modem built-in, not a phone.
No one will write apps for it?
I must be imagining these oodles of applications in my application manager, as well as the thousands of existing Linux FOSS projects that can be ported with minimal effort then.
Moving to Qt
Maemo 5 is GTK based, the next version will use Qt.
Ceded to iPhone, really?
In what sense has Nokia "ceded its dominance of the smartphone market with the arrival of the iPhone"?
They are still, by a distance, the biggest supplier of smartphones by volume. I think RIM are second with Apple languishing in third place.