Samsung YP-R1 16GB PMP
Small screen sensation
Review You can argue until the cows come home about what is the minimum screen size a PMP can get away with for watching feature length video on. Most would agree that an iPod Touch-esque 3.5in is the sweet spot, but Samsung reckons there is room beneath that.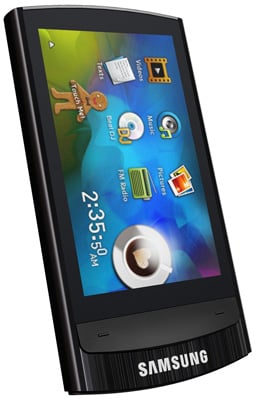 Shrinking the boundaries: Samsung's YP-R1
To all intents and purposes the new YP-R1 is a half pint version of the YP-P3 with which it shares the, now familiar, Samsung widget and icon based TouchWiz touchscreen UI. The main difference is screen size. While the P3 has a 480 x 262 resolution 3in affair, the R1 makes do with 2.6in screen at 400 x 220.
The drop in screen size has allowed Samsung to make the R1 quite a bit smaller than the P3. In fact at 85.2 x 45.5 x 8.9mm and weighing only 50g, it's just about the smallest PMP we have come across with pretensions to serious video playback.
Furthermore, the reduced screen size hasn't put the kibosh on the touchscreen UI, because the capacitive screen is one of the best we have come across on a Samsung device of any size, shape or type and is a major step forward from the P2 and P3.
In fact, the UI is near enough perfect. It's accurate, fluid, responsive and quick and this makes the well thought out menu system and cover-flow style album and video selection screens a joy to use.

The diminuitive size impacts on battery life
External controls are limited to two buttons for volume. These are located below the screen – or to the right of the screen to be more accurate. Like the Philips Muse the sighting of the physical controls suggest the device should be held portrait rather than landscape. On the R1 the feeling is reinforced by the orientation of the maker's name.
COMMENTS
Gingerbread
Is it me or is there something a little perverse about Gingerbread Man with a sign saying "Touch Me" over his... I think you get the idea.
Why is there a kinky gingerbread man on the home screen anyway?
Yes...
... I'd say it's just you.
Gapless?
That is why my Rio Karma still rocks... it is unbelievable that an old player like that still have unique features.
Gapless
hi-robb - sad to say the R1 doesn't support gapless playback. Its a feature I really wish the likes of Samung, Sony, Sansa etc would try to rig up for their players as I listen to a lot of opera on the go.
Gapless?
Good review, but does it support gapless playback?
The masses need to know!
D