Nikon D300s DSLR
Quality stills workhorse gets HD video
The DX size CMOS sensor with its 1.5x crop factor is the same as before with good noise levels easily up to 1600 and beyond. As usual, Nikon starts its ISO range at 200 – but you can go down one stop to 100 from the menu – and stretches to ISO 3200, going up a stop to 6400, if you want. Shutter speed range is the same as the D300: 1/8000th to 30secs plus bulb.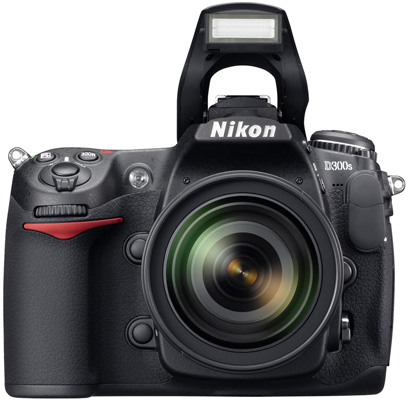 A quality performer, but up against full-frame competition at a similar price
A range of in-camera processing tools includes red eye editing, colour balance, NEF RAW processing of exposure and white balance. These secret tweaks are handy if what you shot wasn't optimum and you need to show people what you have photographed. It is non-destructive too. The original NEF is kept with the output of your edit being a high quality JPEG. For press, this could be an invaluable way of improving images without a laptop before sending.
High speed continuous shooting is now 7fps on its own battery's steam, and as before 8 fps with the MB-D10 battery grip. Batteries are the same as the previous version, helping upgraders keep on track and will keep you shooting for ages, though, as you might expect the exclusive use of Live View when recording video cuts that down.
The hotshoe protection clip now comes with the camera – it's the little things – and external flash syncs at 1/250th sec. The inbuilt flash has a -3 to +1EV range, which is a nice touch. For the clatter-conscious, there's a quiet shutter operation mode, which takes the edge off the taking noise. There is still mirror clack, but the shutter isn't re-cocked until the shutter release is pressed once more.
One thing that gives the D300s the air of a more professional camera is the simplicity of the options for shooting. Program is the main auto mode, whereas Canon, at same price, offers Sport, Landscapes and other presets from the top dial. Essentially, this Nikon doesn't provide as many get-out-of-jail options for the casual user, as the D300s makes you work with P-A-S-M. Sure, you can customise settings to your heart's content, but the options under your fingertips are stripped down, but very intuitive.
Verdict
There's something about the shutter sound of Nikons, they just seem more positive and tighter. This, combined with the magnesium alloy chassis, makes the D300s reminiscent of some of those tanks like the F3, from a bygone film age. Indeed, the D300s is nicely weighted, has a good grip, with a great mix of features and fine tuning. The video recording is capable of delivering top quality footage too, right out of the box. By taking some of the best bits from the D700 and improving on the D90's early successes, Nikon has made a pretty good pitch at this level. But maybe we're getting greedy because, given the competition, as far as video goes, it does seem like the D300s is marking time for the company. Where things lead from here will be very interesting indeed. ®
James Cumpsty is a professional photographer and videographer working in the music industry.
More DSLR Reviews...

Canon
EOS 5D Mark II

Pentax
K200D

Nikon
D3000

Olympus
E-420
Sponsored: Achieving rapid delivery of high quality software with continuous delivery

Nikon D300s DSLR
A superb stills camera, but the video capability appears somewhat limited now.
Price:
£1350 (body-only), £1800 (with 16-85mm lens kit) RRP