LG has 23in 3D LCD to sell, right now
Commercial launch
LG's Display division has begun pitching 3D screens to TV and monitor makers, the company said this week.
It's product catalogue consists of a single, 23in liquid crystal display, but LG wasn't too keen to go into detail about the screen's specifications.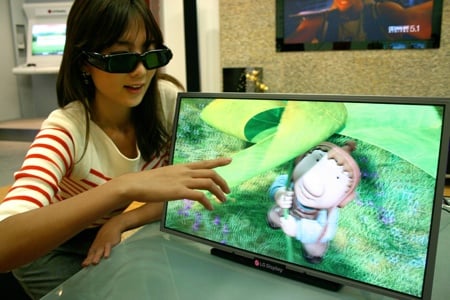 LG 3D TV: future's so bright, we gotta wear shades
It did say the display was designed to operate with active-shutter glasses, which means flashing up alternating left- and right-eye 1080p images.
That's almost certainly the basis for LG's claim that its screen offers a "picture quality that is almost twice as crisp as HD 3D displays currently available in the market" and is "capable of processing more than twice as much image data as other HD 3D LCDs".
It also said the screen has a 1920 x 1080 resolution and can be switched between 2D and 3D modes.
When will products based on the panel come to market? You'll have to ask LG Display's customers about that, but we're sure some of them at least have their eye on 2010's World Cup, which will be shot in 3D. ®
Sponsored: Minds Mastering Machines - Call for papers now open