Optoma HD20 budget full HD projector
Light fantastic
Dynamic contrast control is available in the form using the Image AI mode, but rather than using this mode to bamboozle you with an enormously inflated contrast ratio figure, Optoma has chosen not to mention it at all in their online specification. Nevertheless, the function is there and it works rather well. We're not the biggest fans of dynamic contrast, which can often cause distracting shifts in brightness, but the HD20 seems to get away with it more often than not.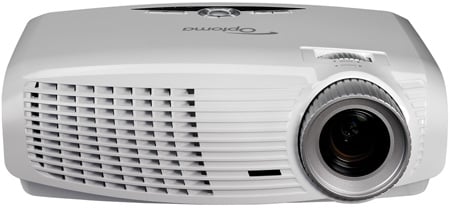 Dynamic contrast hits the spot if you're willing to try it
The supplied remote control is compact, chunky and contoured to the shape of your hand. Its gel buttons are brightly illuminated by blue LEDs and therefore very easy to read in the darkened environment of your home cinema. Small projectors such as the HD20 can often turn out somewhat noisier than those installed in larger cases where there's more space to deal with acoustics when managing air flow. However, the HD20 operates at a reasonably quiet 29dB.
When watching Batman: The Dark Knight on Blu-ray. Contrast was pleasantly high and we certainly had no complaints about sharpness. We were however quite distracted by that bugbear of DLP projection, 'rainbow effect'. We found the distracting red and green flashes rather more apparent on the HD20 than we would have liked. Your mileage may vary here, as the appearance of rainbow effect is a highly personal one, with different viewers perceiving the effect to a greater or lesser degree. You may not see it at all.
There's no getting around it: Creating a full HD projector at this price is bound to involve compromise. Perhaps most importantly it's missing the kind of video processing you'll need to get really good quality scaling from SD or silky smooth motion from HD. While the picture quality is quite exceptional for the price, there can be some very minor jerkiness apparent.
For instance, watching BBC Planet Earth in HD is typically jaw-dropping, but some of those slow pans across the forest canopy weren't quite as smooth as they would have been after some decent processing. It's a barely-noticeable effect, but it's just enough to remind you you're still sitting in your living room not really there.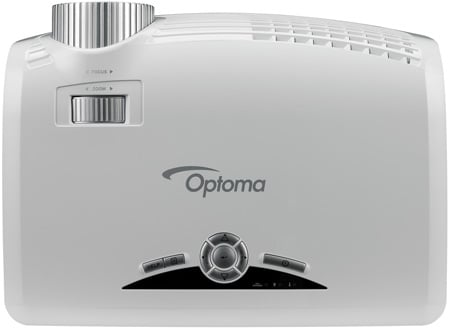 Besides device controls, a remote with illuminating keys is also provided
If you have a Blu-ray player which supports it, this effect can be reduced by using the player's 1080p/24 mode, which is fully supported by the HD20, enabling smoother motion when displaying content originating from film. Budget DLP projectors can often produce rather unrealistic colours and we have to admit to being a little worried that a 1080p projector at such a low cost would have to cut corners in this regard. However, the HD20 DarkChip2 DLP with 6-segment colour wheel delivered very impressive colour, with human-looking skin tones and a natural overall colour balance.
Sponsored: Minds Mastering Machines - Call for papers now open