Acer beTouch E101 touchscreen smartphone
Cheap and..?
The camera is about as basic as they come these days, with a maximum resolution of 1600 x 1200 pixels and very little in the shape of extras. There's no autofocus or flash, but at least it's quick to start up, at about three seconds from pressing the camera shutter, and takes a pic in less than two. Good for quick snaps in other words, so long as you're not too fussed about the quality. Grain was a persistent problem, as was light saturation. Still, it does have one-touch options to share your new pics using email or SMS.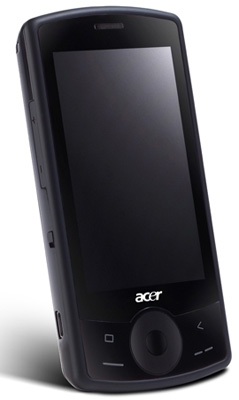 Looks decent, but doesn't sound so good
Watching video is okay but the screen's low pixel count means it suffers in comparison with most touchscreen smartphones we've tried. Since there's no accelerometer you'll have to adjust the screen resolution in Windows Media Player to switch to landscape mode and you'll need the stylus to negotiate the fiddly menus to make any adjustments.
Windows Media Player is also the default player for music and the sound is generally harsh and tinny through the supplied headphones. You'll be stuck with them as well since there's no 3.5mm jack plug that would allow you to upgrade to another pair.
Battery life wasn't particularly impressive, albeit far from a disaster, giving us around a day and a half of moderate to heavy use. This being a Windows Mobile handset you should be able to stretch this a little by adjusting the screen brightness and shortening the screen saver kick-in time.
Verdict
The Acer beTouch E101 may have an exceptionally low price but it's also by far the least desirable of any smartphone we've seen this year. The lack of Wi-Fi or even 3G connectivity severely limits the use for its browsing capabilities but the inefficiency of the screen is what really makes it difficult to recommend. There's just no good reason for a phone to be this difficult to use in 2009, no matter how low the asking price. ®
More Budget Touchscreen Phone Reviews...

T-Mobile
Pulse

Nokia
5530 XpressMusic

Samsung
Tocco Lite

Orange
Vegas

Acer beTouch E101 touchscreen smartphone
Cutting price is one thing, but cutting back on too many features means it barely qualifies as a smartphone.