Acer beTouch E101 touchscreen smartphone
Cheap and..?
With only 240 x 400 pixel resolution it tends to look a little fuzzy too, with drab colours and screen movement that often seems delayed, especially when scrolling through the menus. It's running a Qualcomm MSM 7225 528MHz processor with 256MB or Ram and 512MB of Rom, which doesn't sound particularly impressive – certainly not when compared to the neoTouch S200's 1GHz Snapdragon processor – and sure enough it did seem to struggle when we laid on the multi-tasking options a bit too thick.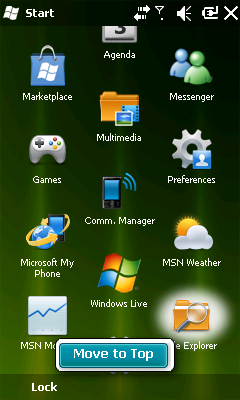 Menu selections were best performed with the stylus
The operating system is Windows 6.5, which, in theory, means you should have little recourse to the stylus (though the poor quality of the screen meant we used it almost all the time) with its big, thumb-friendly app icons in the Start menu. Acer has done little to adapt the basic interface, as we've seen with the likes of HTC's Sense UI.
However, there is the option to add up to nine app shortcuts to the Today page, including Facebook, Flickr, Blogger and Youtube, all of which you'll find on board. Other apps are available from Marketplace, Windows' answer to Apple's App Store, which is still a little thin on the shelves, but growing rapidly.
Call quality tended to be rather tinny through the beTouch E101's speaker, with a slightly metallic quality that we were less than thrilled with. Though this lessened if we turned the speaker volume down a little, this meant compromising on our ability to hear the speaker's voice clearly.
The beTouch E101's economic compromises are also keenly felt when you try to go online. Without Wi-Fi for broadband access or even 3G network connectivity – just GPRS or EDGE – you really start to wonder whether it's worth having a smartphone. The screen may be impressively large, but with such slow connectivity you typically spend too long waiting for pages to render for browsing for it to be anything more than a chore.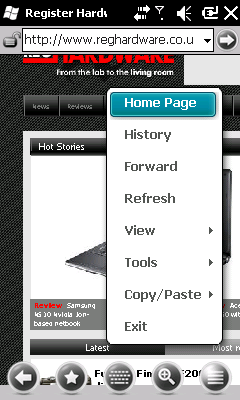 Without Wi-Fi or 3G, browsing takes an age
Internet Explorer is the standard browser, but you can also download Opera from Windows Marketplace, if you feel the need. There's no accelerometer on board though, so if you want to browse in landscape mode (and you will) you'll have to adjust it separately in the settings menu, which is a pain. The beTouch E101 also has GPS on board, but we found it almost as much of a disappointment as the browser, since it tended to take ages to lock on to a satellite and render map pages.