Freeview HD goes live
Technical details emerge as DVB-T2 service activated
With the launch today of the Freeview HD service, the UK can claim to be at the forefront of digital television - though most punters won't be able to receive the service until spring 2010.
Today's launch saw services switched on at the Crystal Palace and Winter Hill transmitters, between them providing coverage for around 22-23 per cent of the UK's population. It's described by engineers and telly executives as a "technical launch", however, with the consumer launch not taking place until late Q1/early Q2 next year.

As of today, while we may have the first operational TV service in the world using the new DVB-T2 standard, there aren't any receivers available to buy.
Ilse Howling, Managing Director of Freeview, told Register Hardware that she expects that equipment will start to appear in stores in January and February of next year, with widespread availability around March.
By then, it's anticipated that around 40 per cent of the population will be covered, rising to 50 per cent in time for next year's World Cup. For detailed roll out dates, see the last page of this report.
Winter Hill is the first station to provide a high-power Freeview HD signal, any anyone who received Freeview in the Liverpool and Manchester area should pick up the new HD multiplex from it. The Crystal Palace transmitter, in common with the other early ones, will be running on lower power. Nevertheless, from the map that was briefly displayed, it looks like coverage will extend to Enfield in the North of London, and in some areas a little further out – sporadic coverage seemed to be going as far as Hertford.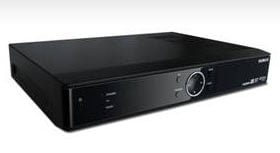 Humax's Fox-HD-T2: set-top box set up for Freeview HD
There's now a little more information about the technical details of the service too. Four manufacturers had prototype receivers on show at the launch, with set-top boxes from Pace and Vestel, together with integrated Freeview HD TV sets from both Panasonic and Sony. In order to qualify for the Freeview HD logo, receivers will need to be IPTV-capable.
COMMENTS
'will be expanded to five channels when encoder improve'
Given that H264 encoders are now mature - improvements are marginal, so i call usual freeview/ofcom BS. What it will mean is we'll have a HD service with picture quality close to what the SD service would be giving if they didn't insist on 50 shitty channels eating all the bandwidth ... or insist on selling off all the bandwidth they could be using to give 20 or 30 multiplexes instead of the 6 we've had for years and will be stuck with post analogue switch off.
Lossless?
"As we all know, Freeview uses a lossless compression technique."
No it doesn't. It's lossy, as you describe in your next paragraph. Just like JPEG and the MP3s you were slagging off earlier (along with half the UK population). And why would we "all know" that anyway? The Reg readership is pretty diverse.
I don't doubt that you are a clever bloke, but you've taken "patronising" to a whole new level, even for a Reg comment - and that's saying something.
What I would actually like...
HD would be lovely and all, but I was thinking about this last night and realised that the only reason I would really want HD would be to get rid of some of the compression artefacts that muck up standard Freeview.
I find it particularly jolting when (frequently) a close up of a character speaking is rendered as an unmoving mask with only the regions around the eyes and mouth moving.
Am I the only one? Wouldn't it make sense to improve the standard picture for the viewing public before moving on to HD?
Re: Lovely, an' all but...
"will there be anything worth watching on?"
Er, no. You must have missed the bit in the article where it said...
"Launch channels are BBC HD on EPG channel 50, and ITV 1 HD on position 51. "
...so in fact the BBC appear to have no plans to make even BBC1 and BBC2 available. How crap is that?
Top tip: the actual kit will be a tenth of the price if you wait until there's something worth watching. (Probably best not to mention this in the presence of hardware vendors.)
Guide+
Some sets include Guide+, which does indeed have advertising. But that's dependent upon the particular manufacturer, and nothing to do with the BBC.
Whether or not the licensing agreement for the FreeviewHD badge will preclude any advertising appearing on the EPG screen where the Freeview logo is show, I don't know. But I will try to find out.