Q-Waves Wireless USB AV Kit
Cable-free TV from your PC
We started by installing the DisplayLink software onto a laptop running Windows XP, and everything ran smoothly. The two adaptors connected to each other automatically, and an icon for the DisplayLink software appeared in the system tray on the Windows desktop. We then used an HDMI cable to plug the dock into a 37in Samsung HDTV and were duly impressed when the Windows desktop appeared on the TV screen as promised.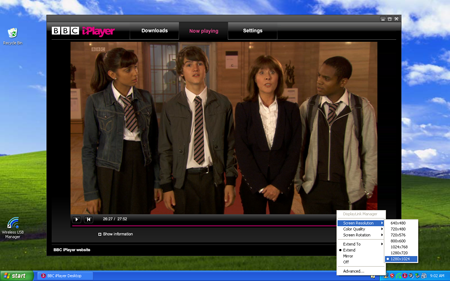 Ideal to set up the BBC's iPlayer to stream to your telly
Right-clicking on the DisplayLink icon activates a menu containing a variety of options for configuring the video output on the external display. You can select resolutions from 640 x 480 up to a maximum of 1280 x 1024.
Alas, no 1080p high-def video support. You can 'mirror' the video output so that the PC's own monitor and the external screen both display the same image, or 'extend' the Windows desktop across both screens to provide a larger desktop area.
We soon had a web browser running on the laptop's built-in monitor and the BBC iPlayer running The Sarah Jane Adventures on the Samsung TV. We also slipped a few DVD films into the laptop's optical drive and got equally good results.
However we sometimes noticed a slight lag – maybe a second – in the wireless transmission. That isn't a problem if you're just watching video, but could be annoying for shoot 'em up games that require lightning reflexes.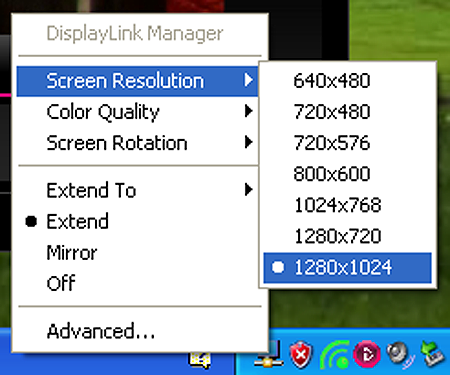 Resolution controls max out at 1280 x 1024
We also found that the 2GHz Core 2 Duo processor in this laptop struggled to maintain smooth frame rates when transmitting some HD test files at 1280 x 1024 – even though it could normally play those files on its own screen perfectly well. So you'll need a fairly beefy machine if you want to play HD video across the wireless connection.
Sponsored: Minds Mastering Machines - Call for papers now open