Q-Waves Wireless USB AV Kit
Cable-free TV from your PC
Review It's often useful to be able to connect your PC to an HDTV, perhaps to play the latest Call of Duty epic on a large screen or give a presentation at work. It's not that difficult either, as long as you've got a suitable cable or adaptor. But if you're the sort of leading-edge gadget fiend who prefers to do away with wires altogether, then you might want to look at Q-Waves' new Wireless USB AV Kit.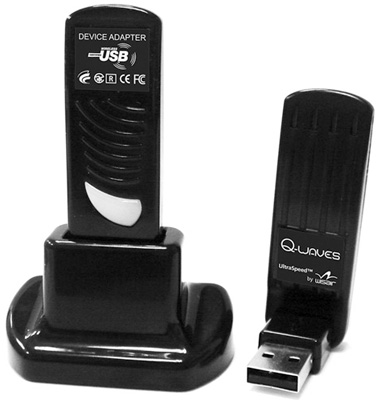 Broadcast views: Q-Waves' Wireless USB AV Kit
The Wireless Kit uses DisplayLink technology, which allows your PC to output a video signal to an external monitor using USB, rather than relying on the video interface of the PC's graphics card. However, it's given DisplayLink a wireless twist by also including a pair of UWB (ultra-wideband, aka Wireless USB) adaptors that allow the video signal to be transmitted wirelessly from the PC to an external display.
The final piece of the kit is a small dock unit that has HDMI, VGA and stereo outputs so that you can use the Wireless USB AV Kit with either a conventional computer monitor or an HDTV.
Q-Waves says that the adaptors provide a data transfer speed of 480Mbps for a distance of up to three metres, or 110Mbps up to 10m. We had no problems using the kit over a distance of around 5m, although the main limitation is more likely to be the fact that you need a clear line of sight connection between the two adaptors. This means that you're most likely to use the kit with a laptop that you can easily carry into the same room as the TV or monitor that you want to use.
Installation is fairly straightforward, as you can instal the DisplayLink software and drivers for the wireless adaptors from CD in just a few seconds. The software provided with our review unit was for Windows XP and Vista only, but there's a Windows 7 update available on the Q-Wave web site if you need it. There's currently no Mac support available, although Q-Wave say that this is under development and may arrive in Q1 next year.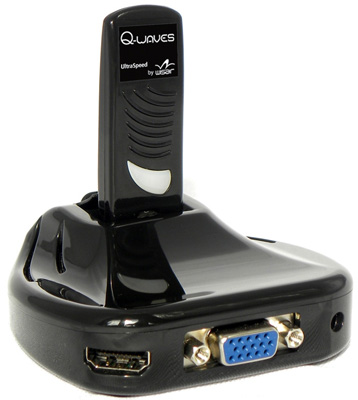 Easy Windows set-up, Mac support due soon
Once the software is installed you plug one of the wireless adaptors into a USB port on your PC, and the second adaptor into the dock unit. The dock unit can then be hooked up to an external display using either the HDMI or VGA interfaces. The dock needs its own power supply, but this is a simple plug with no bulky power brick to clutter the place up.
Sponsored: Minds Mastering Machines - Call for papers now open