Nissan super-battery to 'double' e-car range
Better cathode, bigger capacity
Leccy Tech Nissan is only five years away from the commercial launch of an e-car battery with twice the energy storage capacity per unit weight of current batteries, the company has claimed.
According to Nissan, that means that, by 2015, its Leaf e-car will have a range of nearly 200 miles on a full charge.
The new batteries are expected to cost about the same to make as those the Leaf will use at launch next year.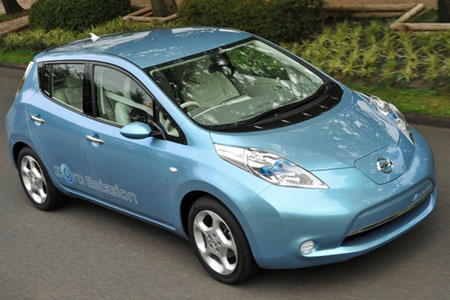 Nissan's Leaf: range-doubling battery to be added later
Of course, that doesn't mean it will cost the same to the customer. Nissan may well decide to price up different capacity battery packs according to each unit's kWh capacity.
Nissan plans to sell the Leaf but lease the battery pack so existing owners will be able to pop down to their local dealer for an upgrade.
With Nissan and Renault joined at the hip, the improved batteries should also be available to anyone driving one of Renault's four planned e-cars.
The new batteries use a lithium nickel manganese cobalt (NMC) oxide cathode, and it's this technology that ups the power cell's electrical efficiency, in turn increasing its effective capacity.
Other battery makers reportedly developing NMC batteries include Panasonic, Sanyo, Hitachi, GS Yuasa, Samsung and EnerDel which suggests we will see them in the majority of leccy cars before too long. ®
Sponsored: Minds Mastering Machines - Call for papers now open