British boffins talk up squeeze-to-control 3D mouse tech
Cogito ergo Suma - I think therefore I squeeze
Think Apple's Magic Mouse - reviewed here - is the acme of input devices? You may have to think again. UK tech company Cambridge Consultants has announced what it claims is "a whole new way of interacting with computers" - a squeezable controller.
Dubbed Suma, the rugby ball-shaped gadget responds to a whole-hand grip and the pressure of individual fingers, read through a "network" of "highly sensitive" sensors built into the device.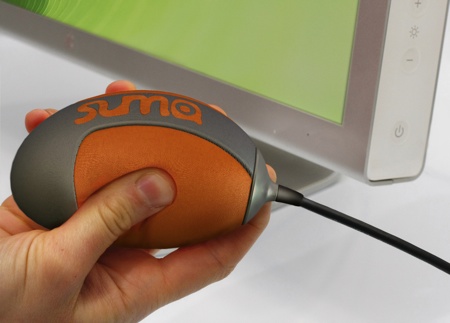 Cambridge Consultants' Suma: squeeze to click
The driver translates the sensors' output into directions able to steer a cursor in three dimensions, CC claimed, its eye on the emerging 3D TV market.
Gaming is another, as is the pro design arena. CC said it's not looking to bring Suma-based products to market itself but instead wants to license the technology to manufacturers of input devices.
"About a quarter of the motor cortex of the human brain is devoted to the muscles of the hand. Yet current input devices for computers and games do not fully exploit these capabilities," said CC consumer products chief Duncan Smith.
"By capturing that complexity, Suma enables product developers in a range of industries to greatly enhance the experience of their users, adding multidimensional interaction to both existing and new applications."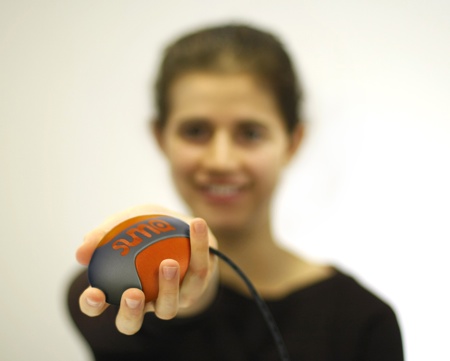 Magic Mouse? Pah!
CC didn't say much more, so while we know what Sumo can do, we don't know how it does it, or whether it actually works. That said, CC promised to show off a prototype at the upcoming Consumer Electronics Show, which takes place in Las Vegas during January 2010. ®
COMMENTS
Crucially
Does it squeek when you bite it?
Make it ergonomic
I want one button per finger and thumb.
And different size mice for different sized hands.
Squeezable ?
I'm amazed nobody has linked this story to the one above it about porn on an android phone. Let me be the first. Can you plug this in to your android mobile ?? Paris - is she squeezable ?
Ah, yet another...
solution to a problem which does not exist.
And something new?
I made something a little like this in 1986, except that it converted the finger squeezes into speech, rather than mouse movement. Battery, speaker, Z80 processor, memory, speech chip and five touch buttons fitted into a semi-rigid tube, described by some as like sqeezing a toothpaste tube (and not much larger). Nice research toy, but not enough dumb people in the UK (the target market) to make it into production. The battery life was pretty bad as well (about 10 minutes if I remember correctly)
Nice to see the boffins catching up at last!
My coat is the one with a wind up radio in the pocket - 'O' level Craft Design & Technology project 1981