Iomega ScreenPlay Director HD
The Apple TV for the rest of us?
We were also pleased to see that the Director HD handled all the test files we threw at it without any problems. Our 1920x1080 H.264 videos looked lovely, and we had no trouble with a selection of other file types, including AVI, DiVX and XviD, MP3 and AAC.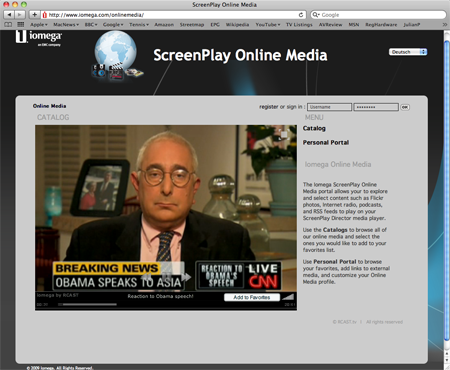 The On-line function offers a range of audio-visual media, and you can add your own links too
In addition to its support for H.264 video, the other interesting new feature is the ability to view online media. Press the 'Online' button on the remote control and you see a new menu that allows you to connect to a wide range of online audio, photo and video sources. YouTube is in there, of course, along with the ShoutCast Internet radio and delights such as the Dilbert cartoon and the Larry King podcast. You can also add links to your own favourite web sites, although you need to sign up for an account at Iomega's web site to do this. There's even a BitTorrent client to play with as well.
Our only other complaint is that the Director HD can be a little sluggish at times. It takes a good two minutes to turn itself on, and the on-screen menu system sometimes responds rather slowly when you're using the remote control to navigate through some of the deeper sub-menus.
Verdict
The Director HD is certainly an improvement on its predecessor. The support for H.264 video is welcome, and the online media options are good fun to play with. However, the browser interface could be improved to make it easier to quickly look through large collections of music and video files. It'll be great for watching video and photo-slideshows, but could be hard work if you want to rip your entire CD collection onto it. ®
More Network Media Player Reviews...

Western Digital
WD TV Live

LaCie LaCinema
Black MAX

Freecom
MediaPlayer
II

Wyplay
Wyplayer

Iomega ScreenPlay Director HD
The support for a wider range of file formats is welcome, but the browser needs to be more versatile to cope with large collections of music and video.
Price:
£179 (1TB), £309 (2TB) RRP